An emergency sponsorship appeal has been launched today by children's charity Plan UK to help families recover from the East Africa crisis.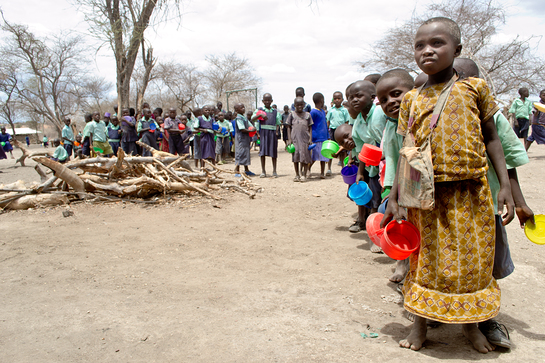 Long-term sponsors of children in Kenya; Agony Aunt Dr Miriam Stoppard, Coronation Street actor John Michie and The Fast Show's Arabella Weir are backing the call for 494 sponsors to come forward to help children and their families affected by the drought in East Africa.
Up to ten million people have been hit by the worst drought in 60 years, with crops wiped out and livelihoods destroyed. Plan is looking to recruit nearly 500 UK sponsors for children in Kenya to help them back from the brink.
"Millions of children are going hungry after years of poverty – you can see the impact everywhere," says Plan's disaster unit officer Sarah Mace, having just returned from Kenya. "Many families can't find anything to eat or drink. The crisis has devastated livestock and created a shortage of supplies. Even when families can find food for sale, most can't afford it."
Money donated to Plan through sponsorship funds projects for the benefit of entire communities, including schools and clinics, rather than individual children.
"Sponsorship doesn't just help children and families when there is a crisis, but provides longer term opportunities for change," says Dr Stoppard.
In drought-hit Kenya, sponsorship funds can pay for better irrigation, resistant crops and new wells to improve water supplies.
Plan's emergency response in Kenya is providing school meals, water trucking and therapeutic feeding for those with acute malnutrition – reaching more than 360,000 people so far. But sponsorship funds are a longer-term solution, enabling people to prepare for future disasters. And sponsorship funded projects involve children, themselves, in the projects – such as tree-planting to prevent fresh water springs from drying up.
"Sponsoring a child in Kenya today means helping them and their community with access to nourishing food, safe water, healthcare and education," says Corrie star John Michie.
Plan has been investing in rain water harvesting and school gardens to grow nutritious fruits like mango and oranges.
"We're getting water to schools and the next stage will be to focus on longer term responses to minimise the impact of future disasters such as rebuilding wells, de-silting dams and rain water harvesting," says Ms Mace.
Find out more about Plan UK here.