Grey's Anatomy star Ellen Pompeo recently mentored 18-year-olds who have "aged out" of the Los Angeles County foster care system by helping them learn how to prepare a holiday meal.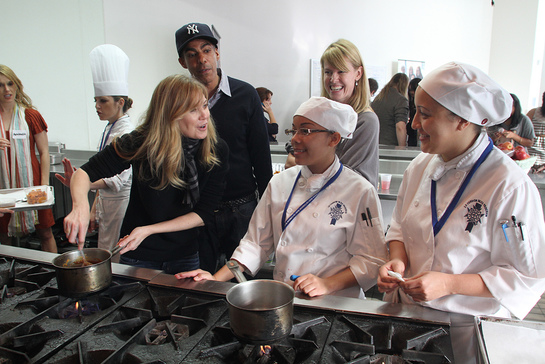 The event, which is an annual tradition for the Alliance For Children's Rights, was held at Le Cordon Bleu College of Culinary Arts – Hollywood and featured the following menu (which Ellen helped prepare):
Herb roasted Turkey with a Balsamic Vinaigrette glaze
Buttermilk and Parsley Mashed Potatoes
Smashed Yams with a Brown Sugar Marshmallow Sauce
Sourdough Stuffing with Cremini Mushrooms
Mandarin Orange Cranberry Sauce
Green Beans with a Lemon Dill Vinaigrette
Four-cheese Macaroni and Cheese with Panko Crust
Old fashioned Pan Dripping Gravy
Pumpkin Whoopie Pies with Cream Cheese/Apple Filling
Caramel Apples
Peach raspberry Slab Pies
Many of the 50 young adults in attendance were moved around frequently during their youth, growing up in environments where a holiday dinner was not something they could count on. The Alliance for Children's Rights, which since 1992 has provided advocacy and free services for 26,000 L.A. kids who have been removed from their biological families by court order, hosts this event annually as an opportunity to gather during the holidays and provide life skills to teens.
Photo Credit: Jessica Chou/Courtesy Le Cordon Bleu