The seven remaining contestants on this week's episode of NBC's "The Biggest Loser" received a challenge from Newman's Own.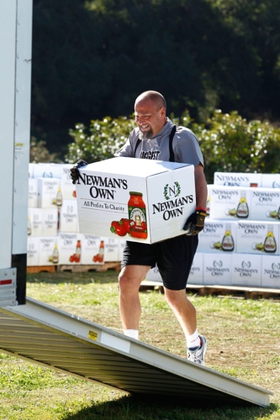 The competitors raced to load trucks with boxes weighing a total of more than 30,000 pounds; that's the total amount of weight lost to date on "The Biggest Loser," which airs Tuesdays at 8 pm ET/PT. The first to complete the task, Mark Cornelison of Magnolia, TX, was awarded 30,000 pounds of food from Newman's Own to donate to his local Feeding America food bank. As a surprise to the other six contestants, Newman's Own announced an additional donation of 30,000 pounds of food for distribution among their hometown Feeding America food banks. In total, the Newman's Own, Inc. donation is valued at $150,000 of food to help feed America's hungry.
Newman's Own, recognized for its philanthropic mission to donate all profits to charity, remains committed to the fight against hunger. Paul Newman began a partnership with Feeding America to fight hunger more than a decade ago and the company's devotion to this issue continues.
"One in six Americans struggle with hunger and more than 16 million children do not have enough consistent access to food to nourish their growing minds and bodies. With such startling statistics, we feel it's important to help raise awareness about hunger in America," according to David Best, vice president of marketing for Newman's Own, Inc. "And we wanted to help alleviate some of the need by donating food to the winners' local Feeding America food banks," Best continued.
Beginning in May, in partnership with Feeding America, Newman's Own will deploy truckloads of its food products to the food banks in the winners' cities, including: Magnolia, Texas; Roswell, GA; Middlebury, IN; Wayne, MI; Rockford, MI and Dittmer, MO.
"Our partnership with Newman's Own helps provide hope in the form of nutritious food for Americans at risk of hunger," said Leah Ray, vice president of corporate partnerships at Feeding America. "Additionally, the affiliation with The Biggest Loser provides an important opportunity to reach a large audience and educate them about the work we do across the Feeding America network."
To donate to Feeding America, visit [www.feedingamerica.org/newmansown. To see a portion of last night's challenge, see the Newman's Own web page at www.newmansown.com/fighthunger.