Reality television stars helped to make the dreams of children with life-threatening illnesses come true by raising nearly $38,000 for Give Kids The World (GKTW) through Hearts of Reality, a three-day event held July 26-28 in Celebration, Fla.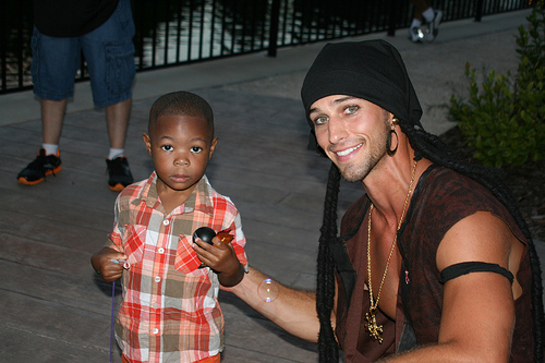 More than 140 of the hottest stars from the hit television shows "Survivor," "The Amazing Race," "The Bachelor," "Celebrity Apprentice," "Big Brother" and more, reunited with their cast mates and used their celebrity to help raise donations for the Central Florida nonprofit "storybook" resort that provides week-long, cost-free, magical vacations to children and their families from around the world.
"We are delighted that the Hearts of Reality participants shared their time and talents with our precious guests," said GKTW President Pamela Landwirth. "In addition, they raised $38,000 and helped bring awareness to our mission of creating the happiness that inspires hope for children battling a life-threatening illness."
Hosted by Lexin Capital/Celebration Town Center for the last four years, Hearts of Reality invites reality star fanatics to mingle and party with their favorite stars at an autograph signing and a "Land Lovers Luau" in exchange for a $20 or $30 donation, respectively, to GKTW. In addition to the funds collected during the weekend, the stars have also personally raised more than $30,000 by posting on their social media sites and asking fans, friends and family to contribute to the cause, which is still soliciting donations until the official close of the fundraiser on August 12.
GKTW's own stars also had the chance to meet the celebrities during a special visit to the Village. The reality stars toured the 70-acre facility and then helped host the Village's weekly Pirates & Princesses party. With tiaras and toy swords, the television stars reversed roles with the children by asking for autographs from the young, true-life heroes.
Participants of Hearts of Reality included: Richard Hatch (winner, original "Survivor", "Celebrity Apprentice"), Russell Hantz ("Survivor"), Chelsea Messiner ("Survivor One World" and top fundraiser for Hearts of Reality), Dr. Carl Bilancione ("Survivor Africa"), Kim Spradlin (winner, "Survivor One World"), Sandra Diaz-Twine (the only two-time "Survivor" winner), Rachel Reilly and Brendon Villegas ("Big Brother" and "The Amazing Race"), Britt Griffith ("Ghost Hunters"), Ty Brown and Nick Peterson ("The Bachelorette"), Ozzy ("Survivor") and many more.
To support your favorite reality star with a donation to GKTW, please make a donation by August 12 by clicking here.