Former undisputed World Heavyweight Champion Lennox Lewis has become the newest Laureus Ambassador, which will see him work closely with the Laureus Sport for Good Foundation.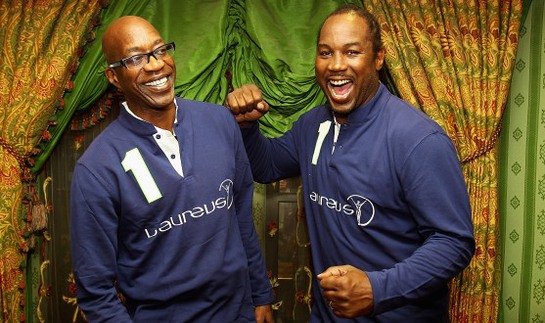 He was welcomed to the Laureus Family by Laureus World Sports Academy Chairman Edwin Moses, both in London attending the Olympic Games.
Lennox Lewis, who won 41 of his 44 fights, said: "I am delighted to be named a Laureus Ambassador and would like to thank the members of the Laureus Academy for asking me. I have enjoyed attending the Laureus World Sports Awards and earlier this year I was able to visit a community sports project in the heart of London and meet some of the kids who were benefiting from the Laureus connection.
"Through my support for Laureus, I have witnessed what a huge impact sport can have on communities around the world. I was very impressed by the young people I met. It just goes to show that when they are given guidance and support, they can turn their lives around and become positive role models for society. I am testament to that, as sport enabled me to turn my life around. I look forward to be being able to do what I can to help in the future.
"Laureus is one of the world leaders in grassroots sports programmes and I'm looking forward to having talks with my own foundation for us to work together in the future."
Lennox Lewis was the dominant heavyweight boxer of the 1990s and the early years of the 2000s. He is currently the most recent undisputed World Heavyweight Champion, having united all versions of the title. Throughout his professional career, Lewis suffered just two losses, both of which he avenged in re-matches, both by knock-out. He was also an Olympic gold-medal winner for Canada in 1988.
Edwin Moses said: "On behalf of the Laureus Academy, we are delighted to welcome Lennox as a Laureus Ambassador. Lennox is a giant of sport, an undusputed world heavyweight champion and a real gentleman. His achievements in his career have been massive, but he remains modest and considerate and he believes passionately in the responsibility of the greatest sportsmen and women to give something back to society.
"You only have to be with Lennox anywhere in the world to realise how popular he is and the respect in which he is held. In what can be a tough sport, he always showed integrity and stood for honesty and decency. It will be great to have him working with us at Laureus."
Lewis was born in London to Jamaican-born parents and moved to Kitchener in Ontario in 1977 when he was 12. He became an outstanding amateur boxer, winning the world junior heavyweight title in 1983 and the Olympic gold medal in Seoul five years later, where he beat future world heavyweight champion Riddick Bowe in the final.
He turned professional in 1989, winning his first 21 fights. In 1992 he knocked out Donovan Ruddock to become No 1 in the World Boxing Council rankings and he was eventually declared champion a year later. Although he lost the title to Oliver McCall in 1994, he won it back from him in a re-match in 1997. He became undisputed world champion after defeating Evander Holyfield in November 1999.
The most celebrated fight in which Lewis took part came in June 2002, when he defended his title against Mike Tyson. The fight was anticipated as a classic between Tyson's brawling style and Lewis' more skilful approach. In the end it turned out to be a one-sided confrontation as Lewis used his jab and superior reach to score a dominant eighth round knock-out victory over 'Iron Mike'. The fight was the highest-grossing event in pay-per-view history at the time, generating US$106.9 million.
Lewis eventually announced his retirement in February 2004. When he left the ring, his record was 41 wins, 2 losses and 1 draw, with 32 wins by knockout.
Source: Laureus.com