Identical twins and world champion tennis players Mike and Bob Bryan are recent gold medalists and have racked up 11 Men's Doubles career Grand Slam Titles and 61 overall titles. And, during the weekend, they went head-to-head with a team of unlikely, but worthy, opponents … firefighters from FDNY's esteemed units in all five boroughs.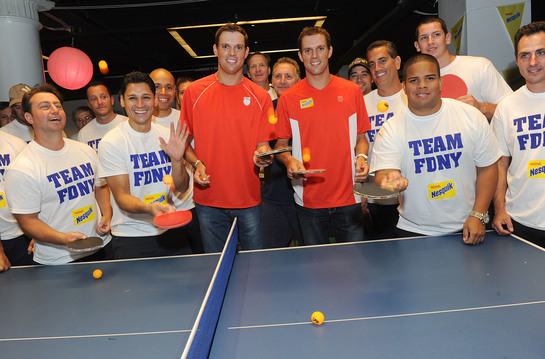 Unlike the Bryans recent matches in London, the pros this time met New York's finest on a different type of "court" – the table tennis court, as part of a ping-pong charity tournament hosted by NESTLÉ NESQUIK.
Sixteen doubles teams representing FDNY competed in tournament-style matches to vie for the winning spot in the final round against the Bryan Brothers. The winning FDNY team then faced the champions as part of the final round of competition, culminating with a $25,000 donation made by the Bryans on behalf of NESQUIK to support the FDNY Foundation – the official not-for-profit of the FDNY that promotes fire safety in New York City and health and wellness training of FDNY members.
Winning FDNY doubles team members Captain Tom Spade of Brooklyn's Ladder Company 242 and Firefighter Glenn Brown from Manhattan's Ladder Company 1, couldn't prevail against the Bryans in action, but a good time was had by all.
The tournament was sponsored by NESQUIK to support the FDNY and to build awareness for ways that athletes and consumers alike can keep their bodies in prime shape following physical exercise. To support their peak performance, the Bryans both drink NESQUIK as their athletic recovery drink of choice after they exercise. Replacing muscle fuel after exercise is essential for an athlete's recovery – and results from recent studies suggest that low-fat chocolate milk, like NESQUIK, contains just the right mix of carbs and protein to aid in this process.