Join Wendy and Baby Hope Diamond for Animalfair.com's 12th Annual Howloween Pet Costume Benefit benefiting the Lucky Diamond Critical Care Ward at the Humane Society of New York.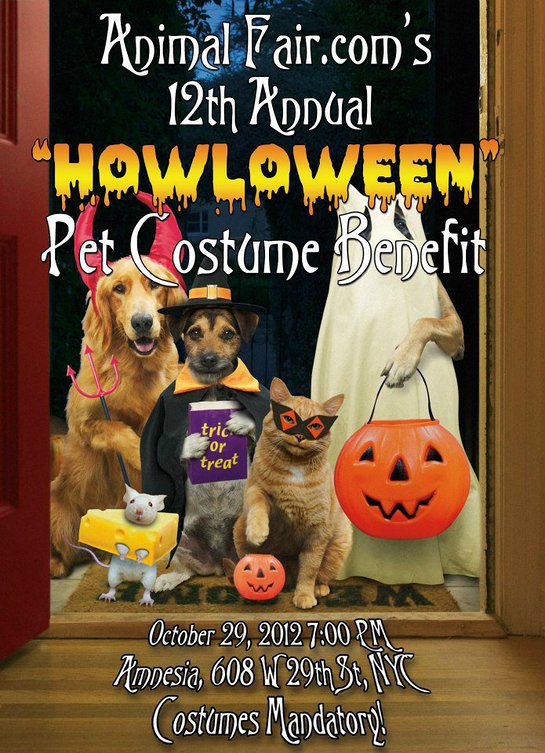 Their celebrity judges include Law and Order SVU's Richard Belzer, Real Housewives of New York's Countess LuAnn, HGTV's Dina Manzo, MSNBC's Thomas Roberts and more surprise judges! Winner of the evening will win a $500 Doggy Bag of wonderful products!
Dress up your dog to raise a paw (and money) for homeless animals! Get your dog's paws pumped in the air as Snookie Schnauzer, or address the country as Mutt Romney or Bark Obama, Lady Doga or Katy Purry (yes cats can attend!) can belt out a bark and celebrate Howloween!
Proceeds from this event will benefit the Lucky Diamond Critical Care Ward at the Humane Society of New York. For over one hundred years (that's 700 in dog years!), The Humane Society of New York has helped injured, sick, and homeless animals in need through medical attention and adoption centers. The Humane Society's veterinary hospital provides quality care, as well as spay/neuter services, to pet owners with limited resources. Its hospital and no-kill adoption center help more than 300,000 animals every year.
You can purchase tickets or enter the photo contest for a chance to have your pet co-host the benefit and win free admission! See you and your pets there! The space is limited for the actual benefit so please buy your tickets in advance – No Tickets will be sold at the door! More info can be found here.
WHEN: October 29th, 2012
WHERE: AMNESIA NYC 609 West 29th Street New York, NY 10001
TIME: 7:00-9:00PM
ATTIRE: Halloween Costumes for both two and four legged!
TICKETS: $100 General Admission. Reserved tables $5,000.