WWE today announced that Superstars for Sandy Relief, the largest ever global online auction to benefit Hurricane Sandy relief efforts in New York and New Jersey, has raised $524,742.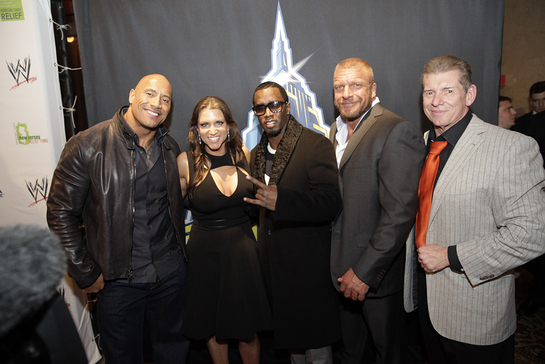 As part of WrestleMania Week activities around the New York and New Jersey region, the auction was a combined effort between WWE, New York City Mayor Michael R. Bloomberg, New Jersey Governor Chris Christie, Hollywood celebrities and professional athletes with proceeds benefiting the Mayor's Fund to Advance New York City and Hurricane Sandy New Jersey Relief Fund.
Superstars for Sandy Relief online auction ran from March 25-April 9, and featured unique, once-in-a-lifetime experiences with WWE Superstars and other international sports and entertainment celebrities. The auction generated more than 2,000 bids from 152 countries, making this the largest auction of the year on global charity auction site Charitybuzz.com.
In addition to the online auction, entertainment powerhouse Sean "Diddy" Combs co-hosted a Superstars for Sandy Relief party with WWE Chairman and CEO Vince McMahon and special guests Dwayne Johnson, Mayor Michael R. Bloomberg and Lt. Governor Kim Guadagno to kick-off WrestleMania Week at Cipriani Wall Street. The live auction, led by sportscaster Joe Buck, raised more than $75,000 to support Hurricane Sandy relief efforts.
"The state of New Jersey is still recovering from Hurricane Sandy," said Governor Chris Christie. "The overwhelming support from WWE and a host of celebrities to help the Hurricane Sandy New Jersey Relief Fund is something that the people of New Jersey will never forget."
"Hurricane Sandy relief is an on-going effort," said Mayor Michael R. Bloomberg. "We are grateful to WWE and all the celebrities involved for putting its global resources behind a cause that is so important to the City of New York and our more than 8 million residents."
"Superstars for Sandy Relief helped raise significant funds and awareness to support the people of New York and New Jersey who are still affected long after the devastating storm," said Vince McMahon, WWE Chairman and CEO. "I'm proud that WWE and its global fan base supported such an important initiative."
Source: BusinessWire.com