Lake Tahoe was taken by storm on July 19th when 15 of the greatest names in sports battled for the title of Korbel Hole-in-One Champion.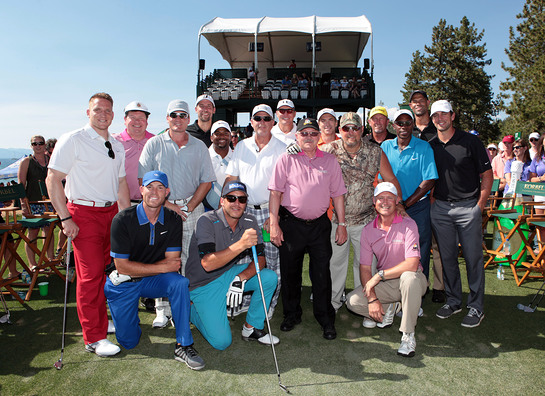 With a powerful drive, Olympic Gold Medalist Skier Bode Miller landed 10 feet 11 inches away from the pin, blowing his competition out of the water to win this second-annual competition. In honor of Miller's win, The Korbel Toast Life Foundation donated $5,000 to the Tahoe Tallac Association. The Hole-in-One Competition took place on hole 17 and is a featured event at the American Century Championship of celebrity golf, currently being played at the Edgewood Golf Course in Lake Tahoe, Nevada.
To assist the US Forest Service in maintaining the beauty and historical integrity of the lakefront Tallac Historic Site, a registered National Historic Site, the Tahoe Tallac Association (TTA) was formed in 1979. In addition to the preservation of the site, the TTA provides public access to the historic grounds and buildings by offering the facilities to groups and weddings and through their Valhalla Arts, Music, and Theater Festival. This fabulous shoreline Festival celebrates local & regional artists, actors, and musicians, providing professional, unique, and fun entertainment to both locals and visitors throughout the summer.
Finishing in second and third place respectively were former MLB All-Star Pitchers John Smoltz, with a distance of 13 feet 7 inches, and World Series MVP Bret Saberhagen, who landed just 15 feet, 4 inches away from the pin.
Other sports a-listers competing for the win included Green Bay Packers superstars Linebacker AJ Hawk and NFL Pro-Bowl Quarterback Aaron Rodgers who set the bar high but could not quite tackle the competition. Bringing a little fun to the competition were comedians for the Blue Collar Comedy Tour Larry the Cable Guy and Bill Engvall alongside Fresh Prince of Bel-Air actor Alfonso Ribeiro who kept the crowd and competitors entertained throughout the event. Exhibiting fierce drives down the fairway were Chicago Bears Kicker Robbie Gould, Former MLB All-Star Kenny Lofton and Former NFL Pro-Bowl Quarterback Mark Rypien. While former NHL All-Stars Jeremy Roenick and Joe Sakic took their best slap towards and Miami Heat Forward Shane Battier coming off his NBA Finals Championship dunked his ball towards the far away flag.
"The second-annual celebrity Hole-in-One competition is an opportunity to have some fun, support a great cause like the Tahoe Tallac Association and raise a glass to the American Century Golf Championship," said Gary Heck, owner and president of Korbel Champagne Cellars.
Source: PR Newswire