World of Children Award Celebrity Ambassador Stephanie March recently traveled to Nepal to observe firsthand how the World of Children Award has impacted the lives of vulnerable children there.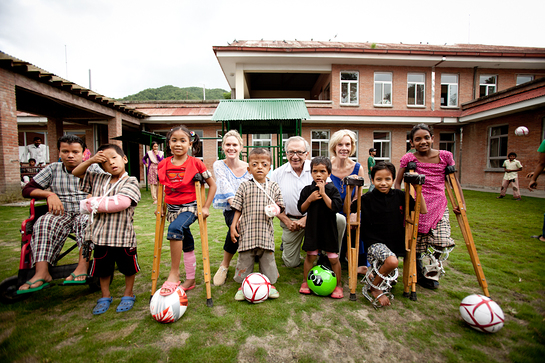 On her journey, Stephanie, along with World of Children Award Co-Founders Harry Leibowitz and Kay Isaacson-Leibowitz, stopped in Kathmandu to meet children who are walking for the first time, thanks to 2011 World of Children Award Honoree Dr. Ashok Banskota. They spent time at the Hospital and Rehabilitation Centre for Disabled Children (HRDC), a world-class center run by Dr. Banskota and his team that treats children for everything from club foot to tuberculosis of the spine. Children come to the HRDC from all over the country to receive treatment for a wide variety of orthopedic disabilities.
Stephanie visited the outpatient clinic and inpatient wards, and later stopped by the HRDC's prosthetics workshop and other support facilities. However, the highlight of her visit was meeting 150 children who have not only received treatment for their disability, but hope for the future.
The World of Children Award, often referred to as the Nobel Prize for child advocates, sets the gold standard for child advocacy by providing funding and recognition for the most effective change-makers for children worldwide. In its 15 year history, The World of Children Award has invested $5 million in programs led by 95 honorees serving vulnerable children in 140 countries.
For more information on the World of Children Award, click here.