By Misty Schwartz on
Actor/Producer/Director/Humanitarian Scott L. Schwartz will return to Coast Anabelle Hotel to host the 2nd Annual Celebrity Cupcakes benefit and help celebrate the launch of Cupcakes Magazine while raising awareness and collecting food for LA Food Bank.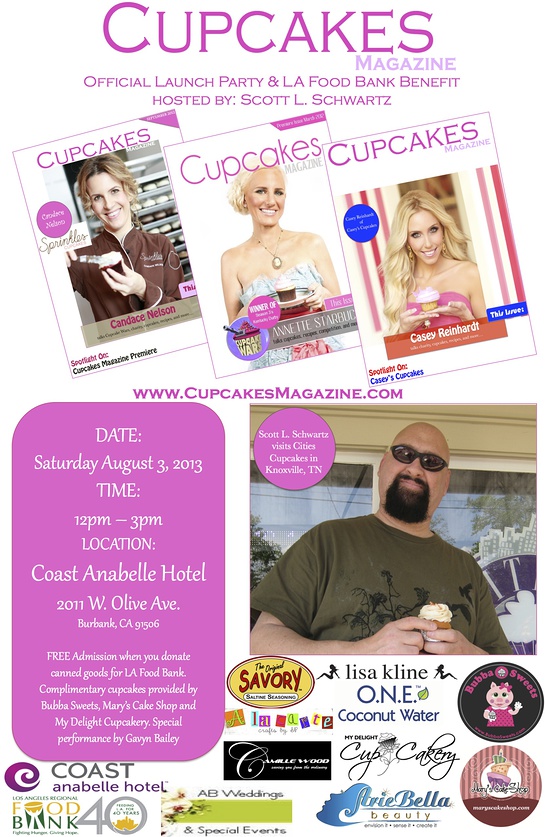 Event sponsors include: AB Weddings & Special Events, Coast Anabelle Hotel, Mary's Cake Shop, O.N.E. Coconut Water, A La Carte Crafts, Savory Saltine Seasoning, Lisa Kline, Camille Wood, Arie Bella Beauty, Monster Energy Drinks, Nekter Juice Bar, Autumns Vibrant Art, 165 Designs, My Delight Cupcakery and Cupcake Wars Winner: Bubba Sweets. The event will also include a special performance by Gavyn Bailey.
Cupcakes Magazine is first magazine about cupcakes, celebrities, and charities… Cupcakes Magazine is focused on spotlighting cupcake chefs and designers from all over the world. They are providing a permanent place for cupcake aficionados to go and find recipes, showcase celebrities who enjoy and/or bake them, and promote and host cupcake charity events.
Celebrity Cupcakes is a non-profit series of cupcake charity events that were created and hosted by actor/director/humanitarian Scott L. Schwartz (Ocean's 11, 12, 13, Buffy The Vampire Slayer, Changing Hands, Castle, The Mentalist, Starsky & Hutch, etc.). Celebrities are invited to stop in and "name" their favorite cupcake, to benefit charity. Guests will receive free admission with a donation of unwrapped canned goods for LA Food Bank. For more information on the Scott L. Schwartz Children's Foundation please visit: www.scottlschwartzchildrensfoundation.wordpress.com or www.celebritycupcakes.wordpress.com.
Scott L. Schwartz is widely known as the "Ultimate Bad Guy" from his acting career including: Ocean's 11, 12 & 13, Starsky & Hutch, Spiderman, Fun With Dick And Jane, Buffy The Vampire Slayer, The Mentalist, Castle, among other feature films and TV shows. What most fans don't know is that Scott is really "The Ultimate Nice Guy" and has been visiting children's hospitals worldwide for the past 15 years after losing his sister to lung cancer in 1998. He realizes the value and impact of making a lasting impression on children with cancer and how important it is to make each child feel special. Scott enjoys visiting pediatric hospitals and bringing what joy he can into the lives of every child he visits. They are always smiling during his visits and usually begging him to return soon.
The Scott L. Schwartz Children's Foundation is making a difference in the lives of each child in need by continuing to visit hospitals worldwide, helping Alicia's House Food Pantry, Children's Hospitals Worldwide. For the past ten years Scott has been an essential part of the fundraising for Alicia's House Food Pantry along with former Chicago Cubs pitcher Milt Pappas and the founder (former pro wrestler) Juan Hernandez. Scott recently accepted the CHOC Glass Slipper Guild Award (a prestigious award that others that David Beckham, Gwen Stefani among others have received). On May 21, 2013 Scott was invited by General Mills to be an Ambassador for Outnumber Hunger. Outnumber Hunger partners with Feeding America and Big Machine Label Group to help Feeding America secure meals on behalf of local food bank. Scott will show his support through raising awareness with his fans about Outnumber Hunger and the staggering issue of hunger in America. For more information or ways to help please visit: www.outnumberhunger.com.
For more details about Cupcakes Magazine (the world's first non-profit Cupcakes magazine…) please visit www.CupcakesMagazine.com.