Just as in soccer, for breast cancer the best defense is a strong offense. Because of this, the Instituto Arte de Viver Bem (IAVB – 'The Art of Living Well Institute') has selected soccer star Neymar Jr., of Barcelona and Brazil's national team, for a perfect play: to appear in the middle of Times Square and serve as an inspiration in this fight.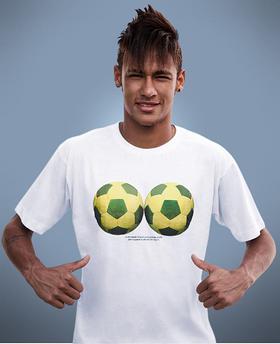 The aim of the campaign, created by the VML agency, is to underscore the importance of regular visits to the doctor, mammographies and getting exercise, which can help in prevention of the disease or recovery for those who are in treatment.
Today a panel at New York's point of heaviest traffic will display the message: "I'm very happy to support this noble cause of the fight against breast cancer. It's important for all women to have preventive exams against this disease, and for their families to support them in this fight." Then, the image of Neymar Jr. will appear, wearing a jersey with two soccer balls where breasts would be, indicating the sport that has made him into a legend.
"Having a name like Neymar Jr.'s, so prominent on the national and international scene, brings even greater visibility to our cause, and helps to publicize the basic care that everyone should take in relation to breast cancer," comments Valeria Baraccat Gyy, founder of the Institute, who is also a winner in the fight against the disease.
To make possible the display of these images on one of advertising's most emblematic panels in the world, the agency had the collaboration of PR Newswire, the main global supplier of multimedia platforms, which is also one of IAVB's partner companies. The Institute also has the support of key magazines, as well as on-line and indoor media.
This action is a continuation of the campaign launched in 2011, which included displays on Times Square panels, and had the support of athletes such as Ronaldinho Gaucho, Hortencia, Tony Kanaan, Vitor Belfort, Emerson Fittipaldi, Cesar Cielo, Anderson Varejao and Marta. "The result was impressive, and has paved the way so that now Neymar Jr. can also support the movement," notes Vitor Knijnik, VP for Creation at VML.
Source: PR Newswire