By Delinda Lombardo on
The Surf Industry Manufacturers Association (SIMA) hosted their 24th annual Waterman's Ball at The Ritz-Carlton, Laguna Niguel on Saturday night where they honored several exceptional humanitarians and environmentalists while raising nearly a half-a-million dollars for the SIMA Environmental Fund.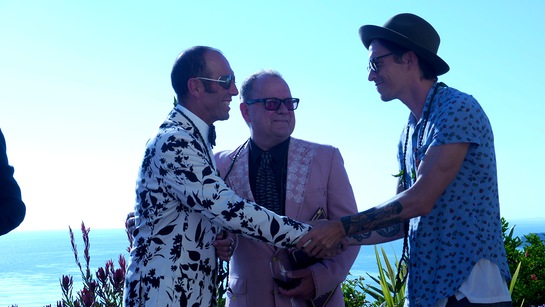 The Waterman's Ball is part of the Waterman's Weekend, a two-day fundraising event held each August that exclusively benefits the SIMA Environmental Fund, a 501( c )(3) charitable foundation that awards grants to various environmental groups based on their dedication to preserving and protecting the world's oceans, beaches and waves.
SIMA honored several noteworthy people for their positive impact on oceanic causes:
The Waterman of the Year award was given to the notoriously flamboyant Fernando Aguerre. Co-founder/former CEO of Reef, and president of the International Surfing Association (ISA), Fernando will be the guy you thank when surfing is recognized as an official Olympic sport.
Fernando's humanitarian work is endless. He started and served as first president of Surfrider Foundation in Argentina, co-created the Liquid Nation Ball, and served on the global boards and contributed significant income to charities like SurfAid International, Save The Waves, Quiksilver Foundation, SIMA Humanitarian Fund, and many more.
Waves for Water founder Jon Rose received a Special Achievement Award for his endless work at providing clean water worldwide. His organization provides clean water solutions worldwide through ongoing projects and a volunteer program, Clean Water Curriers.
Since its inception, Waves for Water has distributed thousands of water filters to areas such as Sumatra, Haiti, Chile and more. Rose also mobilized relief efforts in the wake of Hurricane Sandy.
Rose explained how the organization is growing and expanding: "Its supposed to be a transcendent thing, not just surf, its supposed to be applied whether you're an athlete, chef, musician or individual. We are currently in 13 countries, and right now I've been working mainly in Brazil. We're working with a soccer player down there named Neymar," he told us. "He's one of the best soccer players in the world and he's from Brazil and wants to help his country, so through our program, we followed he and his team around during the Federation Cup… we exist to provide accessibility and all it is, is turning people onto the information. You try to do that the best you can, whether it's a guy like Neymar or here, and that's it."
Find out more here.
Also honored was Brandon Boyd and Incubus as Environmentalists of the Year for the work they do through their Make Yourself Foundation and surf legend Peter "PT" Townend received a Lifetime Achievement Award and shared his secret to a long and prosperous life: "Wake up and be the best you can be," he said.
Full bios for all Honorees can be found here. I encourage you to read more, these guys are improving the world in countless ways and we couldn't possibly cover it all here.
Many thanks to SIMA Surf and the Ritz-Carlton for an amazing event.