One Direction has raised £7,000 for charity after auctioning a personalized one piece pajama suit.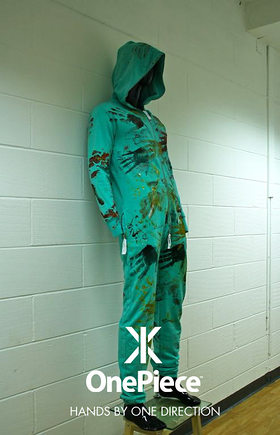 The auction benefited the CAW Foundation, as part of its annual OnePiece2Work campaign.
The CAW Foundation was set up in 2012 to raise funds and support charities and organisations that work with young people and deprived communities. The CAW Foundation supports artistic, cultural, sporting and social change endeavours.
The idea behind #OnePiece2Work is simple – to get people wearing their most comfortable item of clothing on Monday 21st January in aid of The CAW Foundation. Why Monday 21st January? Well supposedly this is 'blue monday' the most depressing day of the year, so CAW came up with the idea of getting people comfy in their office or school in aid of their Good cause, instead of people feeling the need to pull a sickie/duvet day.
Together with the guys in One Direction; Harry Styles, Louis Tomlinson, Liam Payne, Zayn Malik and Niall Horan, clothing label OnePiece designed a special edition jumpsuit collection 'Hands Made by One Direction'.
'Hands Made' indicates the design including the handprints of the guys on the jumpsuits. The creative design and production process, with so much paint and playful minds involved, soon turned into a handprint turmoil. This ended up with OnePiece Soft Green Jumpsuits covered all over with the guys from One Directions original handprints.
Find out more here.