Beam Inc., a leading global premium spirits company, teamed up with music superstars Kid Rock and Montgomery Gentry this summer to recognize and support military service members and their families with a $100,000 donation to Operation Homefront.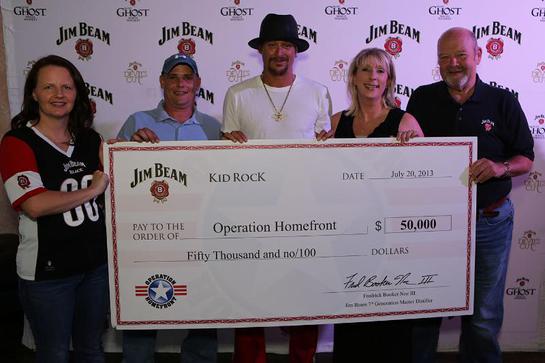 Wounded warriors were invited to participate in two separate check presentations at concerts in Dallas and Indianapolis, which marked the latest demonstrations of Beam's long history of support for the military.
Beam and its flagship bourbon brand, Jim Beam, have worked closely with Operation Homefront since 2008, donating more than $2.5 million through a variety of charitable programming efforts.
"We are extremely proud of our service men and women and the sacrifices they've made for our country," said Frederick "Fred" Booker Noe III, seventh generation Beam master distiller. "Together with Operation Homefront, all of us at Jim Beam are honored to help these heroes and their families once they return home and adjust to life back in the United States."
In Dallas, Army Sgt. Ralph Harroff and his wife, Lorie, joined Kid Rock and Noe to accept a $50,000 check made out to Operation Homefront. Harroff was injured while serving in Afghanistan, and has received housing assistance from Operation Homefront while doctors continue to repair his injuries. Harroff and his family were the second recipients of a new home under the Homes for the Homefront program.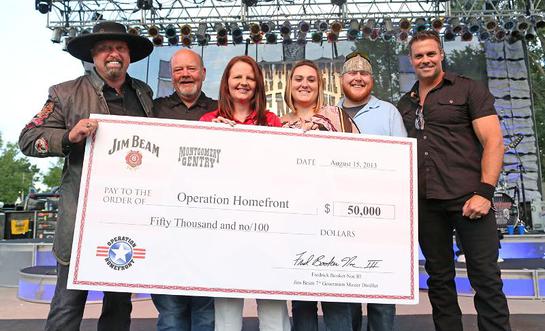 In Indianapolis, Army Spec. Dustin Foraker, and his wife, Heather, joined Montgomery Gentry and Fred Noe to present an additional $50,000 to Operation Homefront. Foraker also sustained injuries while serving in Afhanistan and upon returning to the United States to recover, received housing and financial assistance from Operation Homefront for his family.
"We are incredibly thankful for Beam's continued support of Operation Homefront," said Tim Farrell, Operation Homefront's Chief Operating Officer. "Beam's generous contributions have helped us support thousands of military families each year. Whether that help comes in the form of emergency financial assistance or finding a military family a new home, it makes a huge impact to the families we serve."
Jim Beam's long history of support for the military can be traced all the way back to the 1700s. If not for the land grant given to the Beam family for all their service during the revolutionary war, the brand's Kentucky distillery may not have existed. Today, Beam Inc. is proud to employ numerous veterans and active military personnel, and has promised to hold the jobs of those called to active duty.
Source: PR Newswire