Unique eyewear designer, Stevie Boi is auctioning off some of his items to raise money for AIDS Project Los Angeles on Closets For Causes Monday, September 16th at 10am PDT.
Stevie Boi has teamed up with Closets For Causes to auction off some of his one-of-a-kind glasses like the ones worn by Anna Dello Russo, Fergie and Eva Marcille.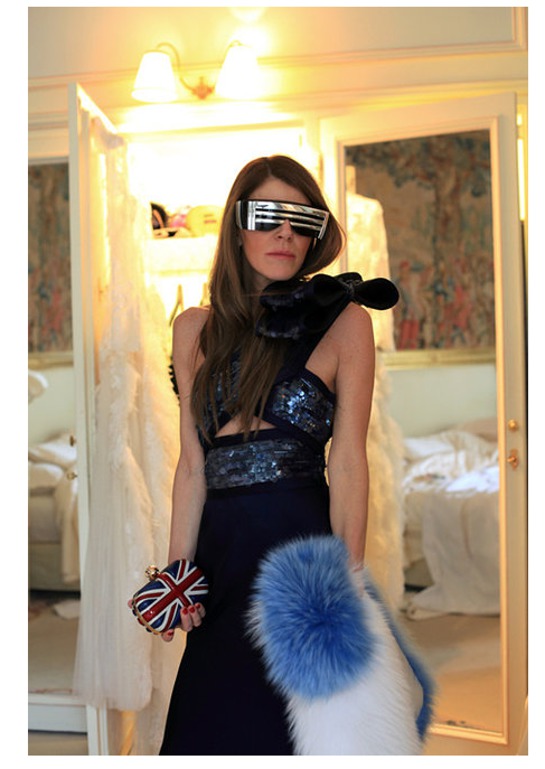 Fans have the opportunity to bid on the Attackz shades and limited edition gold-spiked eye patch seen on and adored by Anna Dello Russo, the Fergz glasses rocked by Fergie during her Black Eyed Peas performance for Science is Rock and Roll, the Shines shades that were fiercely worn by America's Next Top Model winner Eva Marcille, and a pair that graced the cover of Vogue Italia. In addition to these eye-catching sunglasses, Closets For Causes is also auctioning hand-painted tees, adorned with images of celebrity icons that were part of an exclusive collaboration with Anthony Pieters for Australia Fashion Week 2011.
The Baltimore native has pushed the boundaries with his latest collection, "Leather" which features dark, sexy and chic pieces. His pieces have been worn by daring stars who push the limits of fashion. Stevie's big break was landing his eyewear on the cover of the Vogue Italia November 2011 issue, shot by Steven Meisel plus an additional six page spread entitled The A Train featuring pieces from his collection "Coexist". Stevie Boi now specializes in high fashion, runway, ready-wear shades and accessories, and is a favorite of Vogue Japan Editor-at-Large Anna Dello Russo.
"I am very excited to team up with Closets For Causes on this campaign. I make fearless sunglasses so people can be who they are while rockin' their own style. I'm honored to help support the fight against AIDS, and have my creations touch more lives than just those who wear them" says Stevie Boi.
AIDS Project Los Angeles (APLA), one of the largest non-profit AIDS service organizations in the United States, provides bilingual direct services, prevention education, and leadership on HIV/AIDS-related policy and legislation. In 2013, APLA marks its 30th year of operation and is a community-based, volunteer-supported organization with local, national and global reach. Annually, the agency provides direct services and HIV prevention education to more than 11,000 clients in Los Angeles, a city with the second-largest HIV/AIDS epidemic in the nation.
"We are extremely happy to have the support of Stevie Boi. His decision to support our efforts to end the spread of HIV/AIDS and get those infected with the disease into the medical care system so that they can live happy, healthy and productive lives is commendable" says Clarence Williams, Corporate & Major Gifts Officer.
ABOUT CLOSETS FOR CAUSES
Closets For Causes is a unique cause marketing agency dedicated to cleaning out celebrity closets, liquidating their items at public auction and donating the proceeds to the charity of their choice. The results are brand loyalty, nonprofit enthusiasm and good celebrity buzz– all while raising serious money for causes that make a difference.