Lady werewolf Julia Jones from The Twilight Saga films joined a new pack this past weekend, the Brooke Jackman Foundation, to promote literacy for at-risk children in the greater New York area at their 4th Annual Read-a-thon.
The actress, along with other special guest readers, gathered 180 children and families for an afternoon of books and bonding to commemorate the 12th anniversary of 9/11 at Barnes & Noble Tribeca.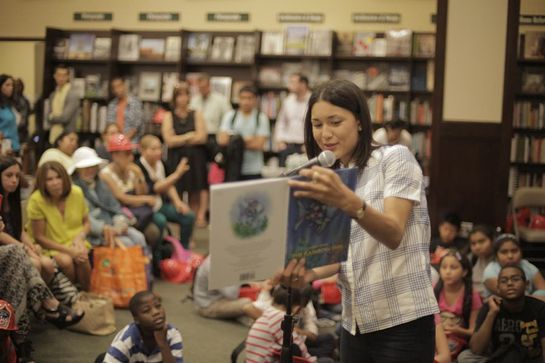 With the 12th anniversary of September 11th today, it is important to showcase the positives that came out of such a travesty. When Brooke Jackman lost her life at the age of 23, her dream was to impact the lives of others through social work. Brooke Jackman, who lost her life in the terrorist attack, was an avid reader, and her passion and commitment to literacy helping children spurred the Jackman family to create BJF as a living legacy – turning tragedy and despair into hope for a better world. These notions led to the conception of the Brooke Jackman Foundation.
Since 2001, the Brooke Jackman Foundation has donated nearly 200,000 books and over 20,000 Brooke Packs, backpacks filled with books and school supplies, to children and families in need. BJF has established four libraries, as well as a number of after-school literacy programs in schools, homeless shelters and Family Justice Centers in New York City. The BJF Family Literacy program welcomes over 1,000 families a year at schools in Williamsburg, Greenpoint, Washington Heights and Inwood, as well as at the NYC Family Justice Centers in Brooklyn, Queens and the Bronx.
Radio Disney Host Matt Wilder served as our MC for the day, and introduced special guest readers. Along with Julia Jones, this year's participants included actress celebrated children's author Stephanie Calmenson, cast members from Spiderman on Broadway, New York Fire Commissioner Salvatore Cassano and fellow 9/11 uniformed hero Danny Glover.
BJF also unveiled ABC What Help Means to Me, the second annual BJF compilation book from children of BJF programs. The book was inspired by the tremendous outpouring of support and togetherness witnessed in the wake of Hurricane Sandy.
Below please find a link to our dropbox account with a few images from the Read-a-thon. Julia Jones is available to speak about her first-time experience with the foundation and the fulfillment it gave her to work with a family so terribly impacted by 9/11. Erin Jackman, the executive director of BJF and Brooke's sister, is also available to speak about the 9/11 anniversary and the positive legacy that came from such devastation.