By Myrlia Purcell on
Rapper The Game has launched a challenge for himself: to make the world a better place.
He has promised to give away $1 million dollars before Christmas, and not in one quick and easy lump. He is raising his awareness of others, observing the world around him and looking for people in need as he goes about his daily life.
He has called his challenge "The Robin Hood Project", and created an Instagram
account where fans can follow it's development.
He explains why he has chosen to undertake such an ambitious project there:
"The other day I posted this pic of an African child I met in Australia playing outside the grocery store. His story of his families hardships & struggles to get away from the terror they left behind touched me so I gave him what I had on me… Which was an Australian $20 bill. As the days passed, I thought about him over & over & over & the only thing that bothered me about that night was that I didn't have more on me to give him at that time. For some reason I just didn't bring more money from the hotel."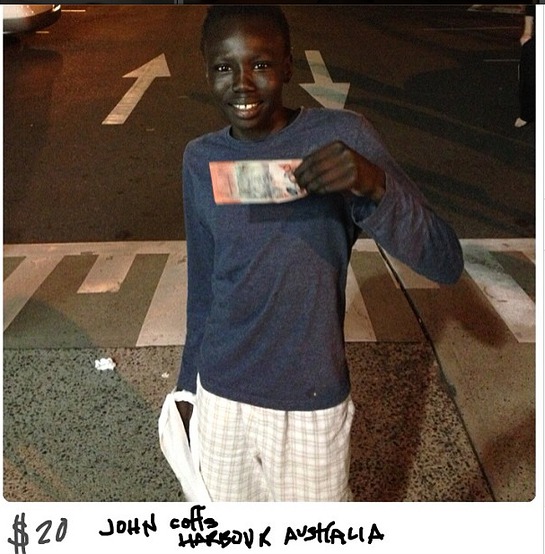 "Since I can't shake that feeling… I have decided to give $1,000,000 (1 million dollars) to people I come in contact with around the world everyday until Christmas. Don't even know if thats possible but I've set my heart on trying !!! I've created a new account specifically for those who would like to FOLLOW @therobinhoodproject & support me on this journey. I ask myself all the time why my heart allows me to do the things it does. Still waiting on an answer………. Please hash tag #TheRobinHoodProject & tag friends you think will be touched or supportive to this movement…. sincerest thanks – The Game"
So far The Game has managed to provide meals and hope to a number of people around Australia, though his biggest donation has been to the grieving family of a 6-year-old girl who was shot when two men opened fire on her and her father at the weekend. The Game said the news of the shooting hit him like "nothing ever has", and immediately reached out to the girl's mother, offering to cover the $10,000 funeral costs. He is requesting that people keep the girl's family in their thoughts and prayers, saying Follow her now @lost_the_love_of_my_life & show her support thru this tough time…… Prayers are definitely needed."
You can follow The Game's philanthropic adventure on Twitter and Instagram.