On September 21st the world celebrates the United Nations International Day of Peace.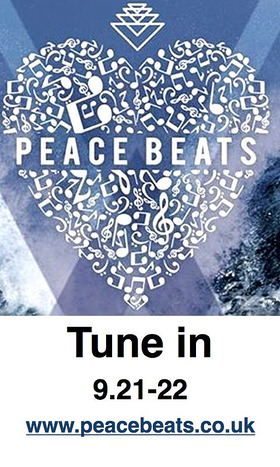 From Peace Day's first minute in Auckland, New Zealand until its last minute in Honolulu Hawaii, people around the globe will be able to enjoy the PeaceBeats Worldwide Webcast 2013: 48 hours of music, video, film, documentary, poetry, dance, visual arts and individual expressions, all celebrating people's appreciation and desire for peace.
The PeaceBeats Worldwide Webcast 2013 includes entries submitted from all over the world. The webcast will be available at www.peacebeats.co.uk as long as it is Peace Day anywhere on the planet.
Peace advocate Michael Nouri, an international film and television personality, will host PeaceBeats' Worldwide Webcast.
"Most days, we're bombarded by news of war, conflict and disaster, but to celebrate Peace Day, we're focusing on news of peace," Nouri explains. "People everywhere want peace. They desire it, they appreciate it, and that's what we're showcasing in the Worldwide Webcast. We're looking at expressions of peace from popular culture, listening to peace advocates and activists, and streaming videos submitted by people around the world."
"You know peace is so much more than the absence of war," Nouri continues. "It's a feeling each of us can experience inside, and people around the globe are putting it into action in their own lives, expressing it creatively through the arts, and volunteering to help their fellow human beings. That's what the Worldwide Webcast is all about."
The PeaceBeats Worldwide Webcast 2013 is an international collaboration of two groups promoting a culture of peace—PeaceBeats, based in the United Kingdom, and the Florida Peace Initiative in the United States.
PeaceBeats is a London-based group of event organizers and music lovers who promote a message of peace through music, spoken word and film; providing young performers a platform for their creativity and desire to be involved in positive expression for change. PeaceBeat artists share their talents for free. 'It's not about money'; says Richard, a musician from the rap group B.E.V London; 'People say money makes the world go round, but I don't think so. It's about being involved in something that has meaning. If we can make a difference through our music and our songs then that makes it worth it."
The Florida Peace Initiative is a group of professionals and community volunteers involved for decades in organizing international peace initiatives and events. Last year for Peace Day they launched the Necessity of Peace Global Webcast. "This year, we're thrilled to be partnering with PeaceBeats," said Joyce Firestone, a volunteer with the Florida Peace Initiative. "It's so exciting to be sharing our experience with a new generation of volunteers who are devoting so much energy and talent to the message that peace is really a positive feeling inside that is a fundamental right of every human being."
Michael Nouri serves as ambassador for Seeds of Peace as well as the Multiple Sclerosis Society. He has enjoyed a long career spanning film, television and theatre. He had a recurring role on CBS's long running "NCIS." He will soon appear in the upcoming feature films "Ambivalence," "The List," and "Easy Rider: The Ride Back."
The United Nations General Assembly first established the International Day of Peace in 1981. In 2001, the UN established September 21 as an annual day of non-violence and cease fire. This year, UN Secretary-General Ban Ki-moon declared, "It is not enough to teach children how to read, write and count. Education has to cultivate mutual respect for others and the world in which we live, and help people forge more just, inclusive and peaceful societies."
Source: PR Newswire