Stephen King's words have always moved readers along an emotional roller coaster, but during his USO Entertainment stop at Ramstein Air Base in Germany, he also learned how quickly spirits can be lifted with just a handshake and a smile.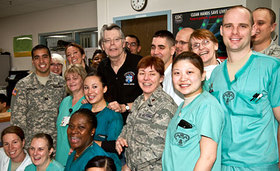 "I never realized until earlier this week just how important everyday moments with our nation's troops and their families really are," King said. "Volunteering with the USO and spending time with our men and women in uniform was an eye-opening experience that I hope to be able to do again soon. I stand behind the USO's Every Moment Counts campaign and encourage others to join the USO in supporting our troops."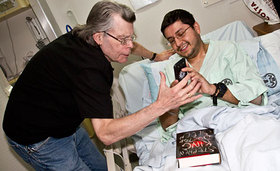 As part of his European book tour in support of his latest and best-selling novel, "Doctor Sleep," King chose to team with the USO last Monday for a day of face time with deployed troops and the medical professionals who care for our wounded heroes. King passed out free copies of the book upon visits to Landstuhl Regional Medical Center and the USO Warrior Center and enjoyed mingling with all of the personnel and families.
Source: USO.org