Hakeem Nicks' Helping Hands and UnitedHealthcare are teaming up with Blessings in a Backpack to provide healthy meals to more than 200 children at PS 15 in Manhattan and PS 102 in Brooklyn every weekend for a year.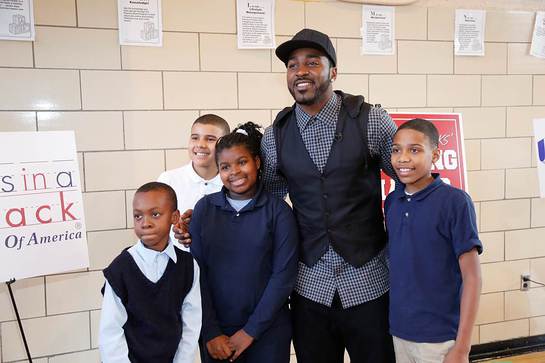 Helping Hands and UnitedHealthcare kicked off the second year of their collaboration with an event at PS 15, featuring health education, and physical fitness challenges and football drills with Nicks.
As a program under the umbrella of the Dreambuilders Foundation, New York Giants star receiver Hakeem Nicks started Helping Hands to provide essential nutrition to kids in need in New York and New Jersey. The program provides backpacks of healthy foods and snacks for in-need children to take home over the weekends, when they may not otherwise have access to nutritious meals.
"Access to healthy foods and staying active are critical to helping children thrive. This year, we are working with Blessings in a Backpack to get these bags of food into the hands of kids that need it the most and to keep these children fed on the weekends, when they don't have access to meals at school," said Nicks, who launched his Helping Hands program last year.
"I am happy to again partner with UnitedHealthcare, which has a longstanding commitment toward helping people live healthier lives. Through our collaboration, we can help our local communities get healthy foods and snacks to children in need," Nicks said.
"Programs such as Helping Hands provide much-needed support to help ensure that children in New York City don't go hungry, especially during the holiday season," said Michael McGuire, CEO, UnitedHealthcare of New York and New Jersey. "We look forward to expanding this program to include nutrition education and physical activity to help children develop a lifelong commitment to health by staying active and making healthy food choices."
In 2012, nearly 474,000 – or one in four – children in New York City lived in households that did not have an adequate food supply, a 31 percent increase from 2006-2008, according to a study by the New York City Coalition against Hunger.
"Our backpacks give children the food they need during those times when free or reduced-priced school lunches are not available, such as on weekends," said Brooke Wiseman, CEO of Blessings in a Backpack. "Working with Hakeem and UnitedHealthcare, we can fight childhood hunger."
UnitedHealthcare, a UnitedHealth Group company, serves nearly 4 million residents across New York with a care provider network of more than 200 hospitals and 60,000 physicians and other health providers statewide.
Source: BusinessWire.com