Here's your chance to bake brownies with Mary-Louise Parker and the cast of Weeds – and help a fantastic cause.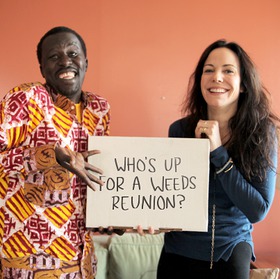 Donate $10 at Omaze.com to enter a raffle for a chance to bake brownies with Mary-Louise and friends in LA.
Donations will help Hope North support the young victims of Uganda's civil war.
Hope North is educating and healing the young victims of Uganda's civil war, including orphans and former child soldiers, empowering them to become voices for peace and development. Founded by artist and former child soldier Okello Sam, Hope North is an accredited secondary school located on a 40-acre campus with an international arts center, vocational training, and a working farm, staffed by 26 dedicated Ugandan educators. Over 1,500 vulnerable youth have lived at Hope North, and today 255 incredible youth are working towards their degrees and planning careers. These youth in turn are contributing to peace-building by organizing educational theater and soccer tournaments throughout the north, an area destroyed by years of war, reaching thousands more.
Omaze offers everyone the opportunity to engage in once-in-a-lifetime experiences with celebrities, athletes and the world's greatest thinkers with the proceeds benefiting a social cause. The process works similar to a charity raffle. The user-friendly site allows anyone to enter to win an Omaze experience of their choice by donating just $5 or $10. Once the deadline to enter for the experience passes, Omaze collects all the entries and selects the winners through a third party computer-generated random selection process. The proceeds are delivered to benefit a specific social cause. The goal of the campaign is clearly quantified and they track the impact overtime so participants can see how their donations are impacting lives.
Click here to find out more about this exciting opportunity.