Harley-Davidson and Marvel LLC hosted a surprise, one hour "for the fans" engagement at Marvel's Captain America: The Winter Soldier movie premiere in Hollywood March 13, following the close of the red carpet.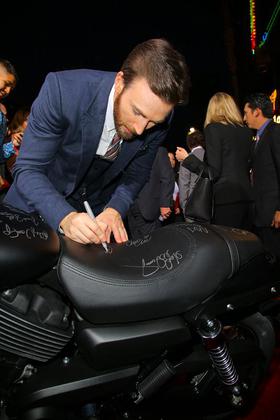 Fans at the event were spontaneously selected to walk and experience the official red carpet and to check out a brand new Street 750 motorcycle along with the stars of the film, who autographed the bike for charity.
In its continued partnership with Marvel Comics, Harley-Davidson's presence at the premiere included six Harley-Davidson motorcycles along the red carpet, where fans took pictures and interacted with actor and musician, Tyler Posey, the official Harley-Davidson commentator and host.
Captain America has been riding Harley-Davidson motorcycles since his introduction in 1941, and the latest chapter of the film saga is no different. This time, the superhero revs up a new Harley-Davidson Street 750 motorcycle when he returns to the screen to battle dark forces April 4, 2014.
To commemorate the premiere, the company donated the autographed Street 750 motorcycle to Captain America: The Winter Soldier star Chris Evans to award to his charity of choice – the Concord Youth Theatre. Celebrities and influencers alike autographed the bike before heading into the premiere.
Harley-Davidson made its appearance at the premiere by enlisting a select group of special S.H.I.E.L.D agents to ride the motorcycles to the red carpet as the media arrived.
Source: PR Newswire