As an actress, Tiffani Thiessen knows a thing or two about the benefits of makeup. This time, however, the talented star is in front of the camera for a different reason.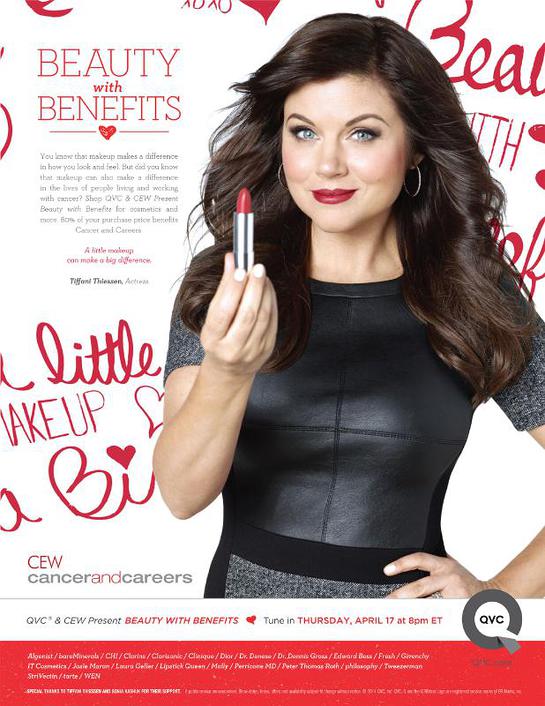 By appearing in both print and television public service announcements for QVC and CEW Present Beauty with Benefits she will help to prove that a little makeup can make a big difference.
The two-hour live charitable broadcast is scheduled to air on QVC Thursday, April 17 at 8 PM (ET). During the event, viewers will be able to shop a selection of products from 19 prestige beauty brands including bareMinerals, Fresh, philosophy and more. Items from additional participating brands will also be available online.
For this initiative, 80 percent of the purchase price of donated merchandise will benefit Cancer and Careers, a charitable program established by the Cosmetic Executive Women foundation. Cancer and Careers empowers, educates and provides essential tools to people with cancer so that they can thrive in the workplace.
"Beauty with Benefits embodies QVC's commitment to supporting the success and wellness of women through the power of relationships," said Claire Watts, CEO, QVC U.S. "We're excited to bring the beauty industry together again for this charitable effort and to have Tiffani as our spokesperson to build greater awareness for Cancer and Careers."
The event will focus on the philanthropic efforts of the beauty industry while providing viewers a special opportunity to support a great cause through a multiplatform shopping experience. QVC's broad reach and CEW's prominence in the beauty industry help unite great brands in this effort. In 2013, "QVC and CEW Present Beauty with Benefits" generated more than $984,000 to benefit Cancer and Careers.
"Cancer in the workplace is so prevalent yet it's an issue that rarely gets discussed," said Thiessen. "I am excited to work with QVC and CEW to support such a worthy cause. I love that I get to use a fun thing like makeup to shed light on such a powerful message."
"We are so pleased to have Tiffani support Beauty with Benefits," said Carlotta Jacobson, president of Cosmetic Executive Women. "We are confident that her positive energy will inspire people to get involved."
For additional information on "QVC and CEW Present Beauty with Benefits" click here.
Source: PR Newswire