GOOD+ Foundation founder Jessica Seinfeld and Jerry Seinfeld were joined by Los Angeles-area families for a spook-tacular afternoon at the 2nd Annual Halloween Bash at The Culver Studios in Culver City, CA.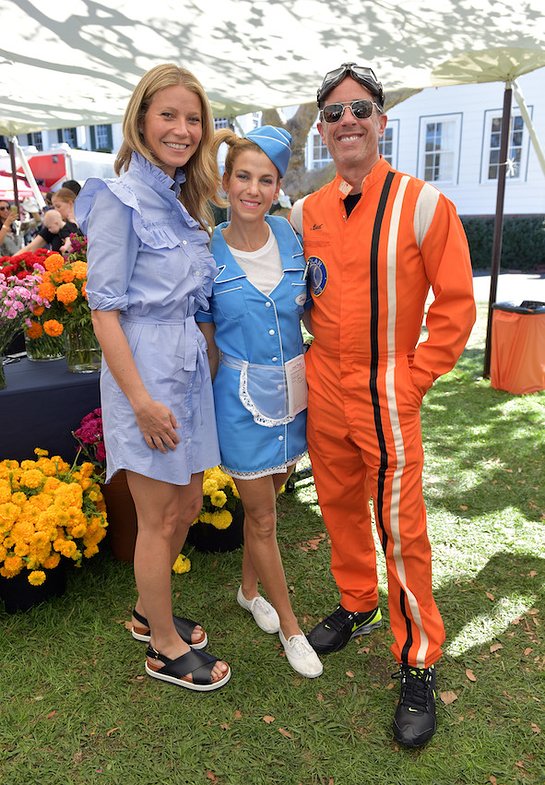 The family-fun day raised nearly $300,000 to benefit the Foundation's work to help lift families out of poverty in the Los Angeles area.
An extension of GOOD+ Foundation's New York City "Bedtime Bash," the Halloween Bash featured activity booths and games, carnival artists, a toddler activity area, and delicious treats. All funds raised will go to help Los Angeles families living in poverty.
"The Halloween Bash is always one of our favorite days of the year because it allows families to spend a fun afternoon together while supporting our work to provide for families here in Los Angeles," Jessica Seinfeld, Founder of GOOD+ Foundation, said.
Nearly 600 guests, including families the Foundation serves within the Los Angeles area, spent the afternoon engaged in an array of activities for the whole family, which was highlighted by Day of the Dead Face Painting & Make-Your-Own Flower Crowns presented by Delta Air Lines & Aéromexico; Trick-or-Treat bag decorating with Beautycounter; Halloween Jenga Games with Farfetch; donut decorating and coffee sampling for the parents with Dunkin' Donuts; airbrush tattoos by UPPAbaby; BABYZEN YOYO+ stroller valet; build a windowsill garden with Annie's Homegrown; cookie decorating with Foodstirs; Fairytale Princess & Price "Meet & Greet" with Fairy Tales Hair Care; spin-the-wheel giveaways with PERVERSE Sunglasses; custom airbrushing on a Trucker Jacket with Levi's Kids; caricature illustrations with Polo Ralph Lauren; and a petting zoo presented by Serenity Kids Baby Food.
Guests at the party included GOOD+ supporters Gwyneth Paltrow, Ike Barinholtz & Erica Hanson, Jordana Brewster & Andrew Form, Baron Davis, Lisa Ling, Sarah Michelle Gellar and Freddie Prinze Jr., Marsai Martin, Sarah Jane Morris, Raegan Revord, Sean Patrick Thomas & Aonika Laurent Thomas, Aubrey Anderson Emmons, Albert Tsai, Alyvia Alyn Lind, Ilaria Urbinati & Eric Ray Davidson and LA Dodgers Chase Utley and
Brandon Utley.
This year's event was presented by Beautycounter, Delta Air Lines and Farfetch, with support from Dunkin' Donuts and UPPAbaby. Toddler activity area was underwritten by Dr. Praeger's. Activity level sponsors included Annie's Homegrown, BABYZEN, Distroller, Fairy Tales Hair Care, Foodstirs, Levi's Kids, Serenity Kids, Peverse Sunglasses, POLO Ralph Lauren, Munchkin and RXBar. The event was produced by Geffen Events with support from FWR Event Rentals, Los Angeles Party Works, Inc., Balloon Celebrations, Petit Pehr, Accelerated Rentals and Piper Preschool.
Co-hosts included Anthony Anderson, Aonika Laurent Thomas & Sean Patrick Thomas, Bill Horn & Scout Masterson, Candice Bieber, Camilla Luddington & Matthew Alan, Courtney & Mario Lopez, Daniela & José Neves, Elsa Marie Collins & Jarron Collins, Gillian Sheldon Heckendorf & Tim Heckendorf, Erica Hanson & Ike Barinholtz, Gregg Renfrew, Hannah Simone & Jesse Giddings, Holly & Ty Burrell, Ilaria Urbinati & Eric Ray Davidson, January Jones, Jason Beghe, Jen Garcia Allen & Jeff Allen, Jordana Brewster & Andrew Form, Kate Angelo & Francois Mobasser, Kathryn Hahn & Ethan Sandler, Kevin Frazier, Kimberly & James Van Der Beek, Laila Ali & Curtis Conway, Mary Kitchen & Jon Orszag, Martel Thompson & Tony Hale, Melissa Abbott, Melissa Joan Hart & Mark Wilkerson, Melissa Magsaysay & Cory Desrosiers, Michael Hackman, Patrick Dempsey, Ryan Michelle Bathe & Sterling K. Brown, Rebecca King-Crews & Terry Crews, Ryan Murphy & David Miller, Sarah Michelle Gellar & Freddie Prinze Jr., Tiffani Thiessen & Brady Smith, Tyler Perry, and Zooey Deschanel & Jacob Pechenik.