Sir Patrick Stewart has opened up to AARP The Magazine about the charities he supports, and his struggle to grow up in poverty.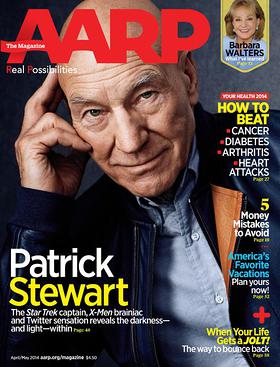 "I have been inclined to be solitary in huge chunks of my life," he says in the interview. "I don't think that's a good thing anymore. I think the interaction of being with people, especially people you like, is very important for keeping you sharp, alert, active, connected.
"For years a part of my acting suffered because I was not prepared to embrace rage. I said I couldn't do it.

"Some of my earliest memories are of when a bill collector came to the door. My mother and I would hide behind the sofa and pretend we weren't in. I thought that was a great game."
In the interview, Sir Patrick reveals how speaking out about his childhood experiences of an abusive father led to his work with Refuge – the first safe house in England for women and children – as well as Amnesty International's Stop Violence Against Women campaign.
"I do it for my mother, because I couldn't help her back then," he says.
He also talks about how he has come to understand his father's battle with post-traumatic stress disorder, which has led him to become patron of Combat Stress.
"I work with Refuge for my mother, and I support Combat Stress for my father."
To read the full interview, click here.