The Second Annual Hoops for Help Fundraiser, to raise funds for beneficiaries of the Todd Herremans Foundation, recently took place in Philadelphia.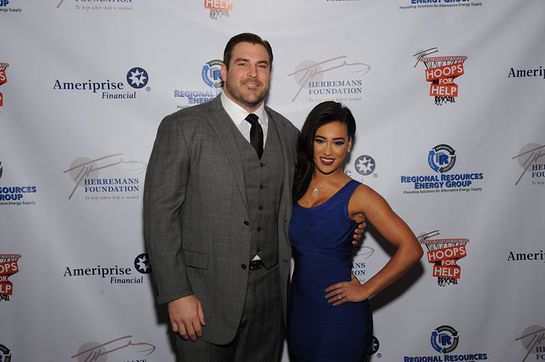 Raising close to $40,000, the event was held at the Vie Restaurant. The NCAA basketball-themed event featured dinner, live and silent auctions, live entertainment from Tim Williams and a chance to meet past and present members of the Philadelphia Eagles and other notable attendees.
The evening started out with cocktail hour where more than 200 guests had the opportunity to mix and mingle with Todd Herremans and other Philadelphia Eagles players, check out the items up for the silent auction, and enjoy live music from Tim Williams. Guests enjoyed the Sweet Sixteen games and were able to root for their favorite teams. The evening continued with dinner and live auction with MC Marissa Magnatta and auctioneer Jon Dorenbos. Dorenbos recruited teammate Riley Cooper to join the auction where a signed guitar and Snow Bowl memorabilia went to the top bidders.
All proceeds of the evening's fundraising event will benefit: Magee Rehabilitation, Alzheimer's Association Recreation Center of Philadelphia, Bringing Hope Home, Cooper Hospital Social Work Division, Zhang Sah Martial Arts/MostSports+ and Kevin from Heaven.
Winners who were assigned the winning team for the Final Four will receive a HERO3+ GoPro camera and second place team will receive an autographed Todd Herremans jerseys.
Special guests this year included: Riley Cooper, Connor Barwin, LeSean McCoy, Brent Celek, Marissa Magnatta, Jennaphr Frederick, Jon Runyan, Scott Hartnell, and Mike Mamula.
This year's title sponsors were – Regional Resources Energy Group and Ameriprise, while other sponsors included USB/Madigan Associates, Grand Sports Auto Body, REIT Management, TruFrame Doors & Windows, Jay Roberts Jewelers, Keenans.