Fifteen time Grammy Award-winning artist and HIV advocate Alicia Keys will join with Greater Than AIDS and ESSENCE to headline a special ESSENCE Empowerment Experience panel on Friday, July 4th in New Orleans on "Through Love of Self, Family and Community, Empowering Black Women to End AIDS."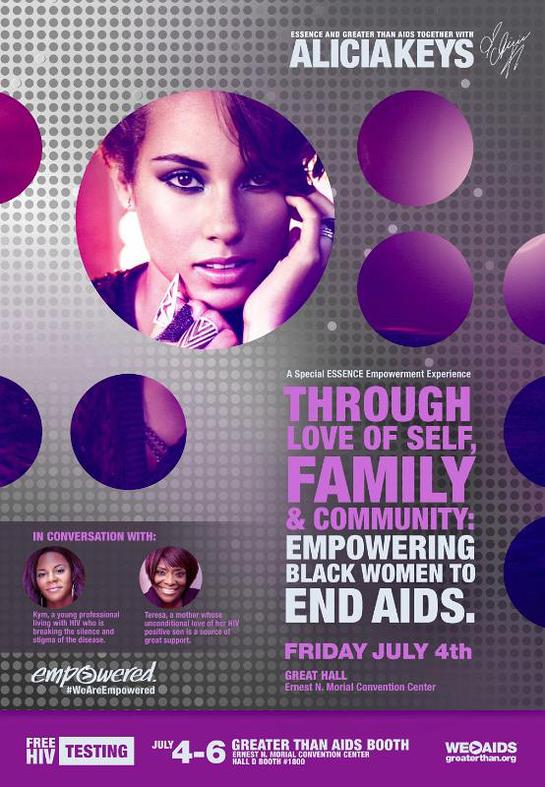 The hour-long program will open with a one-on-one with Ms. Keys about her passion for ending AIDS to be followed by an engaging and inspiring conversation with women whose lives have been touched by HIV and how they responded. Among those joining Ms. Keys on the stage in conversation: Kym, a young professional who found out she was positive when her new husband became sick and died as a result of HIV/AIDS, and Teresa, a mother whose unconditional love of her HIV positive son has helped him to maintain his treatment and thrive in the face of this disease. At the close of the program the panel will respond to questions from the audience.
The ESSENCE Empowerment Experience is part of the hugely popular ESSENCE Festival, one of the largest and most powerful gatherings in the nation. Prominent cultural icons, celebrities and community leaders convene for thought provoking conversations on health, education, politics, love and relationships, to offer solutions for the audience's day-to-day lives. The Empowerment Experience is free to Festival attendees and the New Orleans community.
Of the more than 1.1 million people living with HIV in the United States today, one in four is a woman. Women of color have been especially hard hit, accounting for the majority of new infections occurring among women in this country. If current trends continue, it is estimated that one in 32 Black women will contract HIV in her lifetime.
The program is presented as part the Empowered campaign, launched in 2013 by Greater Than AIDS and featuring Ms. Keys to reach women about HIV/AIDS and the role we all play in helping to end the epidemic. Through targeted media messages, community outreach and special promotions, the campaign promotes specific ways women are empowered in the face of HIV/AIDS, including:
• EMPOWERED to know the facts about HIV/AIDS, including the impact of HIV on women
• EMPOWERED to speak openly about HIV/AIDS with family, friends and others in our lives
• EMPOWERED to protect ourselves and our loved ones
• EMPOWERED to ask to be tested and to know doing so is an act of pride, not shame
• EMPOWERED to live full and healthy lives and help prevent spread of disease if positive by staying on treatment
The program is organized by ESSENCE together with Greater Than AIDS co-founders, the Kaiser Family Foundation and Black AIDS Institute, and Alicia Keys Worldwide. Gilead Sciences, Inc. contributed financial resources to support the program.
Over the three days of the ESSENCE Festival, July 4-6, in the Convention Center, Greater Than AIDS together with the Louisiana Office of Public Health and the Black AIDS Institute will provide free daily on-site HIV testing as well as a photo / video booth and other activations to bring attention to the impact of HIV. (Greater Than AIDS Booth #1800 in Hall D.)
For more information about Greater Than AIDS and the Empowered campaign, including for more details about Alicia Keys' appearance at the 2014 ESSENCE Empowerment Experience, visit www.greaterthan.org/empowered.
Source: PR Newswire