By Misty Schwartz on
Author, motivational speaker and humanitarian Touré Roberts recently talked to LookToTheStars.org about some of the issues close to his heart.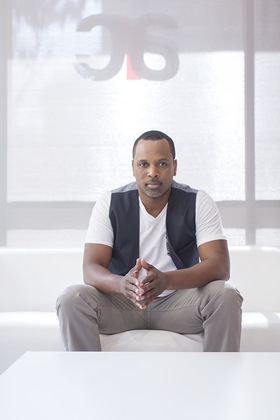 Tell us about the Artist Resource Center
In LA, as you know, people come from all over the world to pursue their dreams. Hollywood has this way to paint a picture, many have bought into the dream, people show up realizing they won't be millionaires overnight. That left a lot of people displaced. They are sad they can't get into the "in crowd". I have pastored hundreds of people in that situation. The primary function of the ARC is to be a creative space. Artists can come FREE of charge, with other artists, use equipment, and receive mentorship. The facility has a computer lab, editing suite, dance space, production and meeting rooms, a conference room, etc, so now the artists that don't have anything can create. For some if it weren't for the ARC they would have quit, given up on god, career, and moved back home. We also have successful entertainers and industry experts who come out to speak and do workshops and seminars. We also do mentoring. All of this is 100% free to the artist. It is also a place where we encourage them to create purposeful content. We inspire artists to inspire the world.
Can you talk a little bit about some of the other causes that you support
I sit on the board of a few charities: Unlikely Heroes (provides homes for victims of human trafficking), the Executive Board of The American Friends of the MDA which provides the blood supply to Israel and the neighboring regions, as well as the paramedic and rescue services. l also support Saving Innocence, a local anti-human trafficking and victim's advocate organization, Britticares International (who encourage and provide resources for room makeovers for families that have children with cancer). My philosophy is that every human should sense an obligation to be a humanitarian to some degree.
What is the most annoying thing about people that don't help charities and why?
If we breathe air, we have a social responsibility to help, to be alive is to be blessed. To be blessed is to find a way to be a blessing.
And how important do you think it is for celebrities to get involved in charity?
Celebrity isn't a privilege, it's loaned influence. If you don't support a charity and never give back it's almost as if you are stealing by not using your influence for what it was given to you for.
What plans do you have to make an impact on society this year?
I'm really excited about my book "Purpose Awakening", which is doing very well and is all about getting people to embrace their unique calling to create change in the world. As this book and others like it continue to succeed, the world will change. I'm so grateful this generation has a social conscience. Additionally, I've been entrusted with influence in and on the entertainment industry. I hope to start production on a high quality inspirational feature film by the end of the year.