By Delinda Lombardo on
Jacksonville Jaguars tight end, Marcedes Lewis, hosted the sixth annual Marcedes Lewis Foundation Football Camp at the Long Beach Poly football field stadium last Saturday to benefit the community he grew up in.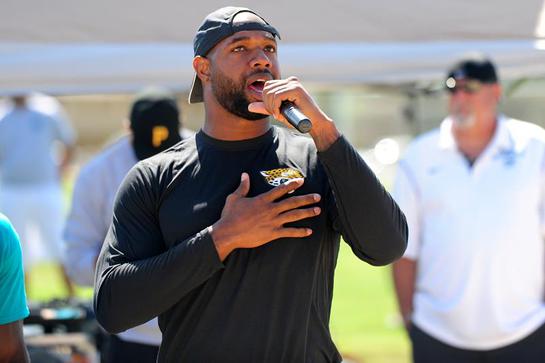 "With the foundation, it was about finding creative ways to give back to not only the community, but society in general," Lewis said. "So I thought a football camp would be huge for the kids in the community I grew up in."
Lewis attended Poly from 1998 to 2001, where he was rated one of the top tight ends in the nation. He attended UCLA from 2002 to 2005 before being drafted by the Jaguars with the 26th pick in the 2006 NFL Draft.
"I spent my first few years just getting my feet wet and understanding the business of the NFL, and once I was familiar with what was going on, I turned my attention to giving back," Lewis said. "That's one of the keys to being successful in general. For me, it was really a no-brainer to start the foundation and the camp.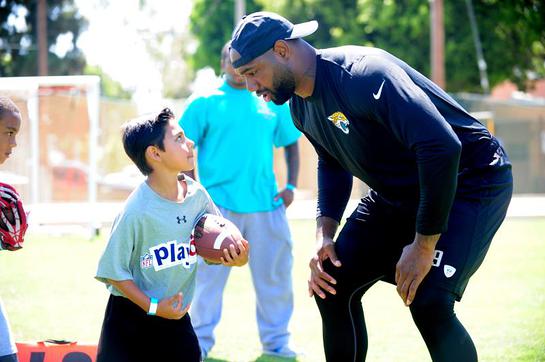 Nearly 500 kids attended the free camp where coaches from Long Beach Poly and community members helped staff the event and teach campers the fundamentals of football, including protecting your body when on the field.
"I never had the opportunity to participate in a free camp with real NFL players giving instruction when I was growing up. The foundation and camp are things that are going to continue to grow, even after I'm out of the NFL… For the kids growing up now, I feel like they think they're entitled, that things will just come to them easy," he said. "So the first thing I tell kids is never use the three words 'I got it,' meaning they aren't willing to accept advice or grow. I'm going into my ninth year and I feel like I'm still growing, not only as a football player but as a person."