Bret Michaels visited Hard Rock Cafe New York on Friday to donate a one-of-a-kind guitar, the Patriot Guitar, to Hard Rock's world-famous memorabilia collection as a tribute to the men and women who serve in the military and to our country's first responders.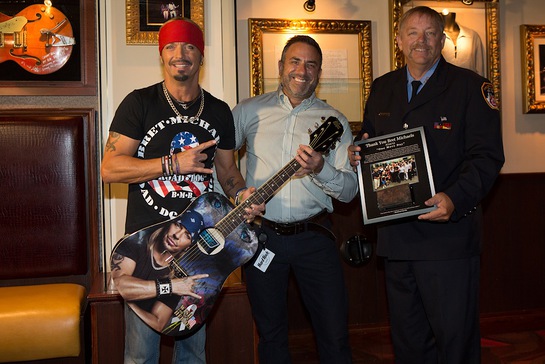 Bret Michaels was also presented a plaque from the Feal Good Foundation, for his dedication to the 9/11 first responders and their families. This plaque joins Bret's guitar on display at the cafe as a homage to Bret's compassion and giving spirit.
The Feal Good Foundation assists First Responders, who may have been injured, physically or mentally, as a direct result of their rescue, recovery and clean-up efforts at the World Trade Center Site following the terrorist attacks of 9/11.