Coach John Calipari and The Calipari Foundation have joined with Global Sports Aid Network and Samaritan's Feet for a benefit effort entitled "Comedy Mania" to be held at Rupp Arena in Lexington, Kentucky, on Thursday, November 20, 2014.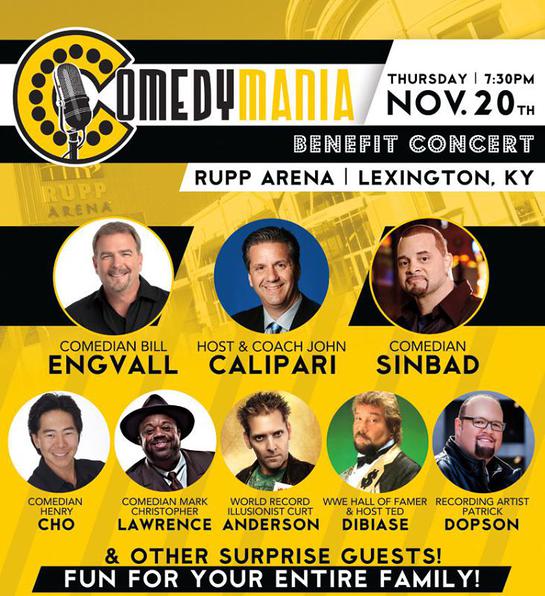 The event will begin at 7:30pm and is billed as a "night of fun for the whole family."
Headlining the event will be comedian Bill Engvall from the Blue Collar Comedy Tour and Dancing with the Stars, along with actor/comedian, Sinbad.
"I'm really honored and excited to be a part of this event," Engvall stated. "There is nothing more rewarding than helping people in need."
Other performers include comedians Henry Cho and Mark Christopher Lawrence. Illusionist Curt Anderson will perform several mind-boggling tricks including an attempt to escape from a straight jacket while hanging from the rafters of Rupp Arena. The event will be co-hosted by Ted DiBiase, WWE Hall of Fame wrestler, and John Calipari, Head Coach, University of Kentucky Men's Basketball.
Proceeds from the event will support clean water initiatives and provide shoes for children and families across the globe. Funds raised will also go towards literacy.
Coach Calipari has a personal interest in helping the people of Haiti and led an effort that raised $1 million in disaster relief for Haiti following the 2010 earthquake there.
"I am excited to be a part of an effort that will be a lot of fun and help a lot of people," said Coach Calipari. "The Comedy Mania benefit is a great way for three like-minded organizations to work together in order to maximize our impact. We need members of the Big Blue Nation to support this effort by bringing their families to the event."
Event organizer, Dr. Matthew Dunaway said, "The response we have already seen in Lexington has been wonderful. We are excited that the inaugural Comedy Mania Benefit is being held at Rupp Arena. Coach Calipari is such a sincere person and really has a big heart to help people. He approaches helping people in need with the same spirit of excellence that he applies to coaching. Through this event we have a tremendous opportunity to make a huge difference in thousands of lives."
Dunaway further noted that GSPAN plans to expand Comedy Mania onto more university campuses in the coming years.
Tickets can be purchased online at www.RuppArena.com/ComedyMania or by phone through Ticketmaster at 800-745-3000.