On Sunday, the 18th annual So The World May Hear Awards Gala benefitting Starkey Hearing Foundation, dazzled guests with an evening of philanthropy, celebrities and entertainment.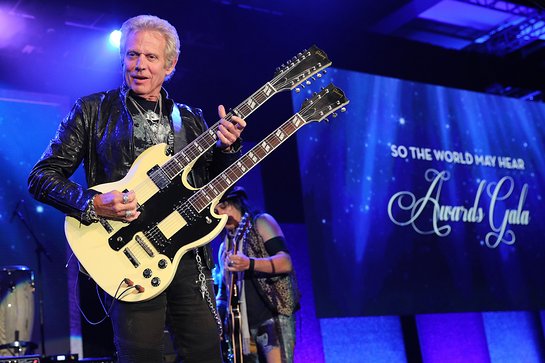 One of the most acclaimed fundraising events in the country, the gala brings together celebrities, global leaders and philanthropists to raise funds supporting hearing health programs and charitable initiatives around the world. A moving speech by surprise guest President Bill Clinton, a longtime foundation partner, underscored the need for individuals to come together to make a difference in people's lives. Other notable guests and speakers included Academy Award-winning actors Billy Crystal and Forest Whitaker, Huey Lewis, Sinbad, and rock legends Alice Cooper, Robby Krieger of the Doors, and Don Felder of the Eagles, who performed all together on one stage.
"Most of us are here because we think – among other things – that we are better off doing something good for somebody else than tearing them down," said Bill Clinton. "We believe in holding hands and taking a flying leap of faith instead of trying to drive people apart."
Hosted by William F. Austin and Tani Austin, co-founders of Starkey Hearing Foundation, the gala honored humanitarians including Dr. Timothy P. Shriver, chairman of Special Olympics; Ehsan and Fatema Laya Bayat, founders of Bayat Foundation; Shep Gordon, legendary producer and philanthropist; and Paul Williams, composer, singer and songwriter. Guests also enjoyed entertainment by international vocal group The Tenors; Grammy-award winning artist Gloria Gaynor; and winner of America's Got Talent Darci Lynne.
This year's honorees join a long list of humanitarians including President Clinton, Desmond Tutu, President George W. Bush, Barbara Pierce Bush, The Right Honorable Tony Blair, Buzz Aldrin, Richard Branson, Jennifer Garner, Ashton Kutcher, Ben Affleck, Marlee Matlin and many others.