The second annual Kids Rock! Fashion Show presented by Haddad Brands, hit New York Fashion Week earlier this month with high-powered performances and appearances by celebrity athletes and their kids.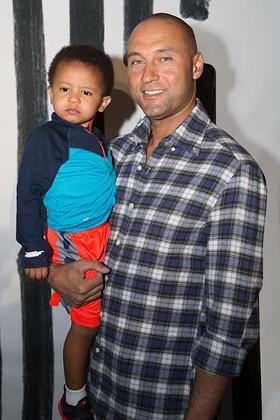 The Kids Rock! exclusive invite-only fashion show will took place at Terminal 23 @ Cafe Rouge featuring Spring 15 fashion looks from the Levi's brand, Converse, Nike, Jordan, Hurley and Nike SB.
The event was sponsored by Rookie USA, a premium kid's retailer and global retail partner for Nike and Levi's kids footwear and apparel. All proceeds of the event went to Derek Jeter's Turn 2 Foundation, a nonprofit organization whose mission is to create and support signature programs and activities that motivate young people to turn away from drugs and alcohol and "Turn 2" healthy lifestyles.
Guests included Derek Jeter, Sharlee Jeter, Carmelo and La La Anthony, JR Smith, Elaina Watley, Alexis Stoudemire, CC Sabathia and Amber Sabathia, Angie Martinez, Unlocking the Truth, Jacquie Lee and DJ KS.
Celebrity Kid Models: Lil C, Jaden, Cyia, and Carter, the children of New York Yankee's CC Sabathia and wife Amber; Amar'e Jr., Assata and Are Stoudemire, the children of New York Knick's Amar'e Stoudemire and wife Alexis; Jalen Jeter-Martin, son of Sharlee Jeter and nephew of New York Yankee's Derek Jeter; Kiyan Anthony, son of Carmelo Anthony and La La Anthony; Demi Smith, daughter of JR Smith; Kennedy Cruz, daughter of Victor Cruz and fiance Elaina Watley; and son of Angie Martinez, Niko Ruffin.
Source: PR Newswire