Elisa Sednaoui – the model and actress and now philanthropist – has teamed up with innovative celebrity fundraising platform www.MyGoodness.com to raise money and awareness for The Elisa Sednaoui Foundation.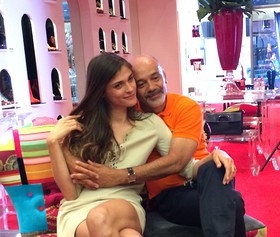 Those who donate to the Foundation via MyGoodness.com will be in with the chance of winning an exclusive weekend in Paris where they will meet Elisa herself, as well as her iconic godfather, Christian Louboutin.
"I am so grateful to Christian and Mygoodness.com for their support AND GENEROSITY," said Elisa. "The funds raised will help ESF organize the next workshops and continue the training of the young adults who will eventually run a community cultural centre which we intend to fund in Luxor. Creative learning cultivates the minds and the hearts, it opens up imagination, and nurtures the soul. Yet, there is very limited access to creative outlets in the daily lives of people in Luxor, and virtually no arts education in local schools. I would like to thank all of you for helping us promote playful cultural exchange, citizenship, tolerance, equality, the celebration of heritage and the building of life skills.
"By donating you are contributing to give a very unique experience for all the kids who will participate in the programmes. I am looking forward to meeting you in Paris"
The Elisa Sednaoui Foundation (ESF) supports creative learning projects (i.e.: education through and exposure to culture and arts) to promote playful cultural exchange and the building of life skills. Why creative learning? Because it has the power to transform the social and cognitive development of children, help foster innovators and problem-solvers, build a sense of community, and promote civic engagement.
The winner of the experience will be flown to Paris to meet Elisa Sednaoui and Christian Louboutin at his studio, where they will discuss the secret of the red soles as well as get to choose their favourite pair of stiletto's from the collection that will be signed by Christian Louboutin. They'll then indulge in a VIP spa treatment at Darphin and spend an evening at the Crazy Horse, sipping champagne and enjoying the most glamorous show in Paris.
Donations start from as little as £10, which will earn entrants 2 entries to the competition, with the winner being selected randomly at the end of the campaign. Other than the grand prize, entrants can get many other exclusive rewards , including Darphin beauty products, Lisa Marie Fernandez Ponchos, original drawings from Christian Louboutin himself, and a signed pair of his signature shoes.
Severine Balick, co-founder of MyGoodness.com said: "We were very impressed by the engagement of Elisa the first time we met her and as fans we are thrilled to be working with Elisa and Christian Louboutin. Elisa is an amazing role model and we're excited to help her to show people how doing good and making a difference is Fashionable. At MyGoodness we believe that if you do good things, good things happen to you."