Before an assembly of nearly 100 people, representing 38 different non-profits and charitable groups in the Tampa Bay area, actress Kelly Preston acknowledged the audience for providing inspiration for people like her and her family to volunteer.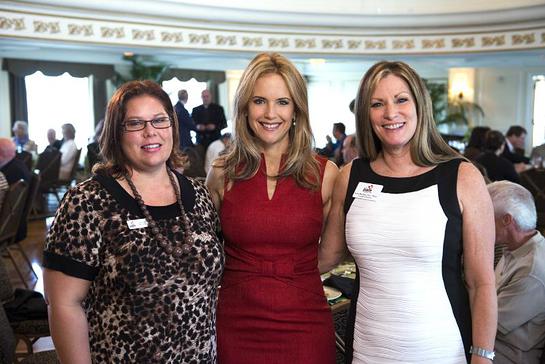 "Your work brings out the best in all of us," said Ms. Preston, "because you inspire people like me and my family to keep volunteering. Because of what you do every day, we can work toward our shared dream of a world where our children can live, work, love and raise their families."
The speech provided the finale of the first meeting of the Tampa Bay Charity Coalition, held at Clearwater's Fort Harrison. Groups represented included Nourish to Flourish, the PACE Center for Girls, the Intercultural Advocacy Institute, Juvenile Welfare Board, East Gateway Community Garden, the Martin Luther King Jr. Neighborhood Coalition, Sierra Club, the Tampa Bay Veterans' Alliance and the Clearwater Regional Chamber of Commerce.
Ms. Preston remained after her speech to greet attendees.
The event provided a forum for area non-profits to network and share resources. The next luncheon is scheduled for Wednesday the 29th of October, which will honor Red Ribbon Week, as well as provide a short educational seminar on how non-profits can increase their long-term survival and viability.
The Fort Harrison has been a site for charitable support since construction completed in late 1926. Since the Church of Scientology's top to bottom restoration and renovation of the Fort Harrison in 2009, more than 12,000 people have attended fundraising activities and community events at the historic property.
Charitable events have benefitted Nourish to Flourish (feeding chronically hungry children in Pinellas County), the Shriners' Hospital of Tampa, Ruth Eckerd Hall, the Clearwater Free Clinic, the Make a Wish Foundation, the Clearwater Martin Luther King Jr. Community Center, the Sunscreen Festival and more.
The Church of Scientology is based on the works of humanitarian and philosopher L. Ron Hubbard.
The event is open to staff or board members from a non-profit. There is no cost to attend.
If you are interested in receiving an invitation to the event, please contact Pat Harney or Lisa Mansell at 727-467-6860.
Source: PR Newswire