In 2013, more than 85 nationally declared emergencies including hurricanes, tornados, floods and fires were recorded, and yet, according to a national survey, 60% of families in the U.S. do not have any emergency plan.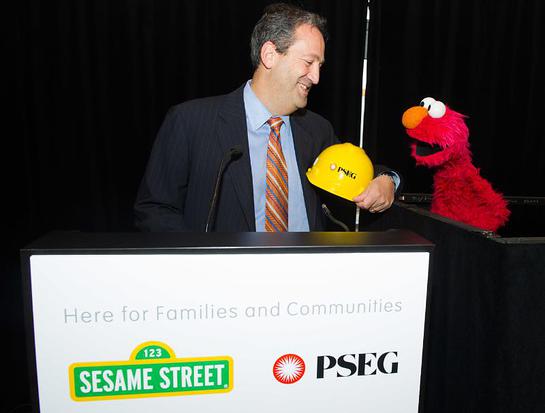 In response, Sesame Workshop, the nonprofit organization behind Sesame Street, has partnered with PSEG Foundation, the philanthropic arm of Public Service Enterprise Group (PSEG), to develop Let's Get Ready: Planning Together for Emergencies, and Here For Each Other: Helping Families After Emergencies, free emergency preparedness and response initiatives in English and Spanish.
The PSEG Foundation has committed $1.3 million to develop the initiatives aimed at instituting emergency preparedness into families' routines through simple tips, strategies, and activities, as well as prepare families with effective and comforting ways to respond when a disaster occurs.
With the help from Elmo, Let's Get Ready and Here For Each Other launched on October 7 with a community event at the Ironbound Early Learning Center in Newark, NJ, and will be followed by an event in Long Beach, Long Island on October 9. Both locations were heavily impacted by Superstorm Sandy in 2012. The Ironbound section of Newark was the only location within the city to be flooded. Long Beach, Long Island, one of the hardest hit New York communities, is still struggling to recover with a large percentage of homes still uninhabitable.
"Sesame Workshop, with our beloved Sesame Street Muppets, has always addressed educational and community needs through the creative use of media," said Dr. Jeanette Betancourt, Senior Vice President for Community and Family Engagement at Sesame Workshop. "We believe that a better tomorrow begins by raising smarter, stronger and kinder children today, and in partnership with PSEG, we're helping families not only create stronger children, but stronger communities as a whole through our emergency preparedness and response initiative."
"We all try our best to be prepared for an emergency like Superstorm Sandy. But we may not always know when a crisis will strike, which is why it's so critical for families to talk about action plans proactively," said Ellen Lambert, President of the PSEG Foundation. "In preparing for an emergency, everyone in the family needs to be involved in planning, including young children. This unique partnership with Sesame Workshop will help ensure that there are tangible long-term impacts to helping families be prepared."
Let's Get Ready! Planning Together for Emergencies helps adults explain to young children various ways they can be physically and emotionally prepared for an emergency. Resources include a free Sesame Street Let's Get Ready Mobile App (available on iOS, Android, and Kindle) and an online toolkit with video and downloadable resources for parents, caregivers, educators and children.
The materials are free for anyone to download. PSEG plans to distribute fliers with information on how to download the information at children's parks. PSEG will also have employee volunteers distribute information to child care centers in New Jersey cities like Newark, Jersey City, Camden, and Trenton. Every employee will be encouraged to share the information their home towns.
The materials offer tips on how families can prepare their children for an emergency in age-appropriate ways such as:
• Everyone, even young children, can play a role in planning for the unexpected.
• Creating an emergency plan that the entire family practices, and shares with the significant people in their lives is important.
• Helping children learn personal information such as a phone number, their full names, and the names of special people in their home, is helpful in case of any emergency.
Here for Each Other: Helping Families After Emergencies helps adults and children cope with disasters. These resources provide ways to talk as a family about what happened, while remaining hopeful for better things to come. With this information families can create a comfortable and caring environment, no matter where they are, even when they are not surrounded by their familiar things. Resources include an online toolkit which contains Sesame Street videos, highlighting the importance of asking questions, showing comfort, and coping with emotions. Additional downloadable resources include a family and community guide.
The materials offer strategies on how families can respond to their children after an emergency in age-appropriate ways such as:
• Comforting a child and spending quality time together can be the best reassurance that everything will be okay.
• Even though there has been a big change, simple routines can help children feel safe and secure.
• Children feel more secure when they know what is happening around them. Use simple words to explain what happened, and listen to your child's questions and concerns.
• There are many people around who are ready and willing to help (firefighters, doctors, police, volunteers, etc.). These are caring adults children can talk to and ask questions.
Additionally, the interactive tools help parents develop key skills with their children to prepare for an emergency, including:
• Learn First and Last Names to help children learn not only their own full names, but those of their family members in case they get separated during an emergency.
• Where I Live to help kids learn and remember their home address.
• Neighborhood Resources to teach children about the kind folks they can rely on in case of an emergency, like police officers and firefighters.
Source: PR Newswire