"If you wait for fear to subside, you're going to be on the sidelines for a very long time," Robin Roberts, co-anchor of ABC's "Good Morning America" told a sold-out audience of 8,000 at the 11th annual Pennsylvania Conference for Women. "It's important to fight the battle in front of you."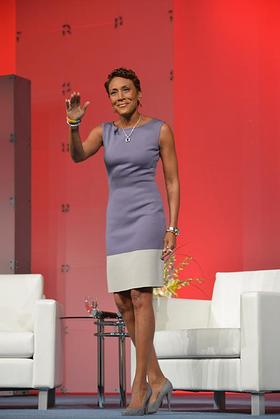 Roberts spoke about her recovery from two serious illnesses and the death of her mother, chronicled in her new book, Everybody's Got Something – as well as her lifelong reliance on faith, family and friends. In a wide-ranging conversation with "Good Morning America" contributor and best-selling author Tory Johnson, Roberts also reacted to recent controversial comments by Microsoft CEO Satya Nadella regarding women waiting to ask for raises. "I spoke up," said Roberts. "I didn't just sit at my desk waiting for karma."
Earlier in the day, Conference for Women attendees also heard from Diane Keaton, legendary actress and bestselling author, and Jill Abramson, the first female Executive Editor of the New York Times. Former "Today" co-host and "Dateline NBC" anchor Jane Pauley joined Roberts, Keaton, and Abramson as a keynote speaker. The Conference also featured Candy Chang, creator of the "Before I Die" project, a global art project that invites people to reflect on their lives and share their personal aspirations.
Now Pennsylvania's largest personal and professional development event for women and one of the largest of its kind in the country, the nonpartisan, nonprofit conference attracts more than 7,500 attendees this year. Themed "The Power of Us," the 11th annual Conference featured more than one hundred speakers for a day of inspiration, reinvention and networking. Topics included leadership, career advancement, money management, health and wellness, small business and entrepreneurship, social media, branding and more.
"Today's Conference once again showed us that remarkable things happen when thousands of women come together to be educated, inspired and empowered," said Leslie Stiles, Board President of the Pennsylvania Conference for Women. "Today's amazing speakers gave women of all backgrounds the confidence they need to explore their own unique abilities to create positive change in their personal and professional lives – and in their communities."
Exclusive to the Pennsylvania Conference for Women, Local Leader Meet Ups offered attendees the chance to have one-on-one conversations with local businesswomen and community leaders, and intimate Expert Exchange sessions offered a focused discussion with industry veterans. Conference attendees also had the opportunity to experience the new Cisco Networking Lounge and Beneficial Knowledge Bank Pavilion and Classroom, as well as participate in the popular Drexel LeBow Career Pavilion, featuring resume reviews by human resource experts, Coaches Corner (one-on-one "speed coaching" sessions with career and life coaches from the Philadelphia Chapter of the International Coach Federation), workshops on communication skills and social media, and much more.
The Conference Health & Wellness Pavilion showcased speakers and companies dedicated to improving women's health, while onsite exhibits feature hundreds of organizations and companies with products or services that appeal to women. Additionally, attendees had the opportunity to connect with local nonprofits at Amerihealth's Community Connection Pavilion.
"This year's Conference reminds us that women have their strongest advocates in each other," said Joanne Ryder, Executive Vice President and Director of Brand & Strategy at Beneficial Bank, presenting sponsor of the Conference. "The Conference motivates thousands of women to form new friendships, overcome obstacles, and pursue new career goals. As the oldest and largest bank headquartered in Philadelphia, Beneficial Bank has a long and rich history of supporting women in the community. We're thrilled to once again be a part of this extraordinary day, and proud to be the presenting sponsor of this wonderful event."
The Pennsylvania Conference for Women is presented by Beneficial Bank and the Beneficial Bank Foundation. It is also generously underwritten by dozens of corporations including Bristol-Myers Squibb, PPL Corporation, Cisco Systems, Drexel University's LeBow College of Business, Hail Merry, QVC, Clear Channel Media+Entertainment, Tierney, AmeriHealth Caritas, AstraZeneca, Cancer Treatment Centers of America, DuPont, Ernst & Young LLP, GlaxoSmithKline, Independence Blue Cross, Johnson & Johnson, MasterCard Worldwide, PriceWaterhouseCoopers, and Radian and State Street Corporation. Also, ACE Group, ACME Markets, AmerisourceBergen Corporation, Amtrak, Citizens Bank, Comcast, DLA Piper, eBay Enterprises, Fine Wine & Good Spirits, Thomas Jefferson University Hospitals, M&T Bank, NRG Energy, PECO, PNC Bank, Stradley Ronon, The Dow Chemical Company, United Airlines, Wells Fargo, Whole Foods Market, Interstate General Media, Philadelphia Magazine and WPVI-TV 6abc.
"The Conference offers the rare opportunity to see and hear some of our country's most authentic and influential voices sharing inspirational stories and discussing issues that matter most to women's lives," said Ehrika Gladden, Senior Director, Americas Cloud Consumption Models at Cisco, the exclusive Networking Sponsor of the Conference. "Cisco is committed to supporting women at all stages of their career, and we're proud to be a part of this incredible day."
To learn more about the 11th annual Pennsylvania Conference for Women, visit www.paconferenceforwomen.org.