On 14th October, Hugh Quarshie, star of the BBC One medical drama Holby City, met with patients, doctors and nurses at King's College Hospital, to officially open the new Paediatric Short Stay Unit (PSSU).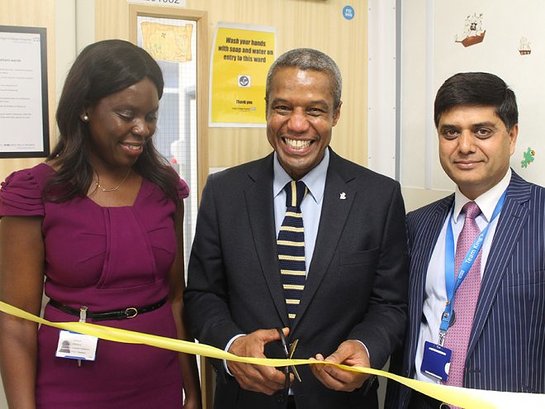 The new six-bedded unit is part of the Variety Children's Hospital, based at King's College Hospital, which cares for 50,000 children every year.
The unit cares for young patients who need up to 48 hours of care, treating those from our local community who are admitted via the Emergency Department. Whilst these patients need to be in hospital, they often do not need be on a specialist ward, so the new unit can offer general paediatric care for the children with conditions.
Hugh Quarshie, a member of the Royal Shakespeare Company and known for his roles in the films Highlander and Star Wars Episode 1: The Phantom Menace, has starred as Dr Ric Griffin in Holby City since 2001. He has supported Variety for the last year across a number of their events and initiatives, with the opening of the unit being a fitting new venture for the star to champion.
"I'm delighted to be here at the opening of this special unit and to see the great work of the real medics at King's," said Hugh. "I'm also very honoured and humbled to be a celebrity ambassador for Variety, the Children's Charity."
Dr Mo Akindolie, one of the Paediatric Consultants on the new unit, added: "I know PSSU will make a huge difference and help us to make the care we provide to all our patients even better. It was great that Hugh took the opportunity to step out of character and join us to officially open our unit – hopefully he picked up a few tips from our team to take back to Holby!"
Trevor Green, Chief Barker of Variety - The Children's Charity, added: "We are extremely honoured to be able to unveil this new unit as part of the Variety Children's Hospital at King's. The Charity and its fundraisers are absolutely dedicated in continuing to ensure that places such as King's can make life a more positive experience by providing emotional and practical support to sick children and their families."