The award-winning animal rescue film LION ARK, charting the ambitious and daring mission by Animal Defenders International (ADI) to save the circus animals of Bolivia, enjoyed rave reviews from Emmy-award winning comedian Alexei Sayle and a host of celebrity guests at its gala screening in Leicester Square on Saturday night.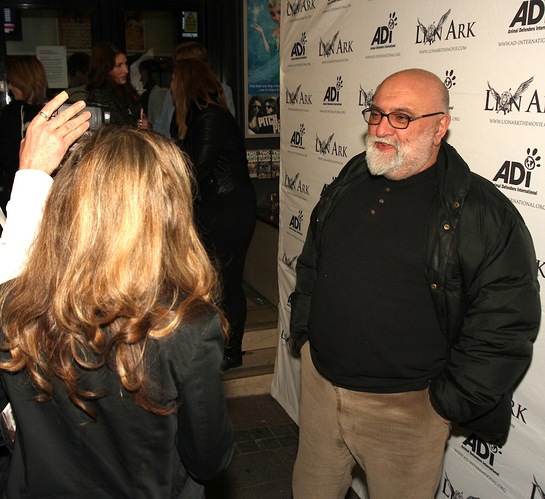 Praising the epic tale of how a small team overcame adversity to bring the animals to freedom, Alexei Sayle said after watching LION ARK "It was really moving, I really enjoyed it", whilst X Factor boyband Fifth Street, wildlife presenter Anneka Svenska, TV vet Marc Abraham, social justice campaigner Peter Tatchell, nutritionist Gillian McKeith and DJ Nutty Traxx were wowed by the "fantastic", "inspiring" and "truly remarkable" film, urging everyone to see it.
Bollywood actress Sofia Hayat, former model and animal campaigner Celia Hammond, peace campaigner Bruce Kent, composer Karel Havlicek and punk band The London Dirthole Company also supported LION ARK at the red carpet event.
The uplifting film about the historic rescue of 25 lions from circuses across Bolivia was enjoyed at the Prince Charles Cinema by hundreds of people, who gave LION ARK a standing ovation.
DJ Nutty Traxx was so moved by LION ARK that he has pledged proceeds from the sale of his upcoming tracks to ADI, which is in the midst of another major rescue in South America. The organisation has been assisting authorities to enforce an animal circus ban in Peru, and currently has 30 lions, 9 monkeys and several other animals in its care. A total of £200,000 is needed for the final phase of the mission, which will see the lions flown to a US sanctuary and the monkeys relocated to a purpose-built sanctuary in the Amazon. ADI is appealing for donations to relocate and rehome the animals.
Since its release, LION ARK has taken the film festival circuit by storm with sell out shows, six awards, official selections for 14 prestigious film festivals, and an NAACP Image Award nomination for Outstanding International Motion Picture.
The documentary has also won praise from critics: The New York Times, "Lion Ark proceeds with refreshing unpredictability"; Britflicks, "Born Free with balls on… unmissable"; The Hollywood Reporter, "Compelling cinema verité"; ACED Magazine, "this film should be a target for this year's Oscars. Excellent."; Reel Talk, "the feel-good movie of the year!"; The Independent Critic, "One of your must–see films"; The Ecologist, "A consciousness-raising milestone of a documentary"; and TV and Film Review "thoroughly rewarding".
LION ARK's story begins when ADI secures a ban on animal circuses in Bolivia following a two-year undercover investigation across South America. The shocking findings lead to public outrage and calls for action across the continent. Bolivia is the first to act and ADI must help the government enforce the law. The team journey across a vast, hostile terrain to track down the illegal circuses defying the new law, save the animals and bring them to safety, and a joyous finale sees 25 lions airlifted to freedom in the US.
The rescue was backed by legendary and Emmy award-winning US TV 'Price is Right' game show host Bob Barker and CSI actress Jorja Fox ('Sara Sidle'), whose company Seafox Productions is an Associate Producer of LION ARK and both appear in the film.
LION ARK, which has recently been signed into distribution with ITV Studios Global Entertainment, is currently playing in cinemas across the UK where audiences can hear the very latest rescue news from LION ARK Director Tim Phillips and Producer Jan Creamer. Next screenings: Merseyside (Dec 11th), London (Dec 15th) and Southampton (Dec 17th). Ticket details are available at www.lionarkthemovie.com/screenings.