Lots of pet parents are getting BretSmart at PetSmart this holiday season as Bret Michaels, a pet parent since birth and winner of Celebrity Apprentice's highest rated finale, proves once again why he is a real life entrepreneur.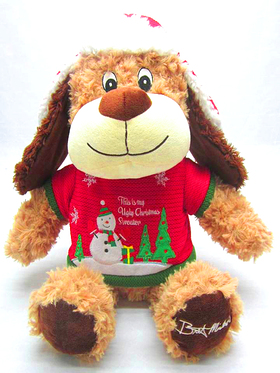 As reported by Forbes, MSN and other major media outlets, Michaels Ugly Christmas Sweater dog and cat items are the hottest sellers this holiday season. Michaels, a creative entrepreneur and risk taker, is also a type 1 diabetic since the age of six who is adamant about philanthropy and he has made sure that a portion of the proceeds from his holiday Chance plush toy goes back to the pet community (rescues, foster families, and adoption organizations).
Voted by many media outlets as one of this seasons hot ticket items, the Bret Michaels Chance plush toy has flown off the shelves at a record pace and sold out online. The limited collectible Ugly Christmas Sweater Chance plush toy has developed its own cult following and has also been donated by Bret to numerous children's hospitals across the country.
In less than three short years, Michaels will have taken his Pets Rock line for dogs and cats well over the 50 million dollar sales mark and PetSmart has officially announced that Michaels' Pets Rock line will be a long term anchor product lining the isles of the stores as it continues to break records both in store and online.
Donald Trump called Bret "one of the most creative, toughest and most driven true life entrepreneurs he ever encountered on and off the show," especially after Michaels fought his way through his recovery from a brain hemorrhage while filming the Apprentice.
PetSmart could not agree more as Joice Wirkus, Vice President of Retail Marketing for PetSmart, states that "Bret is extremely hands on in all aspects including the development and marketing of his product, commercials and webisodes, as well as focusing on Petsmart Charities rescue endeavors."
Michaels – who is a real life pet parent – has helped to form a community by bringing together pet parents through his appearances at PetSmarts around the country, donating to rescues, flying fans to concerts, and creating a place where they can share their pet stories on his website.
"Even though he chooses to take the road less traveled, Bret seems to succeed time and time again through his hard work, determination and some really crazy ideas that just seem to land on their feet," states Wirkus. "Again, we at PetSmart are excited that the Bret Michaels Ugly Christmas sweater collection has blown the roof off of both in store and online sales and to meet continued demand from pet parents worldwide, we have had to put more product in stores. Once again sales of Bret's product have passed all sales expectations and continues to be one of PetSmart's top selling holiday items 3 years in a row."
Stay tuned for the announcement for the new Bret Michaels Pets Rock Spring collection.
For everything Bret Michaels, click here.