Top comedian, writer and actor, Hal Cruttenden, has just lent his voice to a DVD recording on Ebola in the form of an interactive lesson to teach basic health education throughout the poorest communities of the world.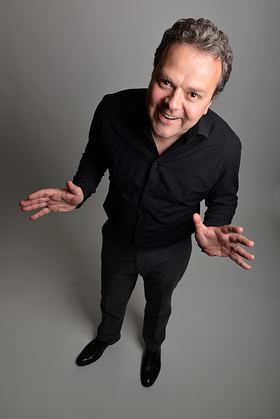 So impressed was he with the work of Thare Machi (pronounced t-arry match-y) Education that he accepted immediately the charity's request to be a Patron saying: "Such a great honour to be given the chance to help in the fight against Ebola by voicing a Thare Machi DVD for West Africa. You are a wonderful and very important charity."


Already, 2,000 DVDs on 'Avoiding Ebola' have been distributed through governmental channels and partner organisations in Sierra Leone, with an enthusiastic response from the Ministry of Health and Sanitation. With some estimated 200 people watching each DVD this means that some 400,000 have been reached. Other affected countries have also welcomed them.
Today, Thare Machi has 32 lessons in 55 languages – from Acholi to Zulu – sharing essential health information through DVDs with the poorest, least educated and most vulnerable people in the world.
The lessons are on topics such a HIV/AIDS, malaria, TB, diarrhoea, safe water and basic hygiene – recorded in the community's own language. They focus on key facts and are interactive making them popular with their target audience, many of whom cannot read and write.
The brainchild of the charity's founder, Helen Taylor Thompson OBE FRSA, this simple but effective method of information through DVD lessons met with instant success and new topics and translations are being added all the time.
They are distributed free through partners such as community groups, street children's societies, health clinics, churches, schools and individuals. They do not need classrooms or training – or anyone from the charity having to be there. A portable player can be charged from a car battery.
Says Rachel Butt, Director of Thare Machi, of Hal Cruttenden's appointment: "Your interest in our work has been a huge encouragement and we are thrilled to have you on board in this way."
Find out more here.