Chris Pratt and Chris Evans have visited Seattle Children's Hospital as part of a bet made during January's NFL playoffs.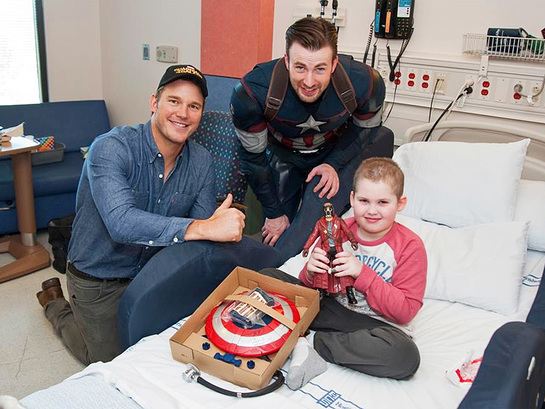 From the Seattle Children's Blog: "Evans, a New England Patriots fan, and Pratt, a Seattle Seahawks fan, both wagered on who they thought would win the Super Bowl. Depending on the outcome, they promised to either visit the children of Christopher's Haven in Boston (Evans' charity of choice), or patients and families at Seattle Children's Hospital. After the Seahawks were defeated in the Super Bowl, Pratt stuck to his word and visited Christopher's Haven with Evans. Pratt even wore a Tom Brady jersey, much to his chagrin.
But in true superhero fashion, there were no losers in this bet. Evans announced on Twitter he would still visit Seattle Children's.
"Since the initial bet began in January, Pratt and Evans have helped raise more than $27,000 for Seattle Children's and Christopher's Haven.
"'We are grateful that real-life superheroes Chris Pratt and Chris Evans turned their sports rivalry into an opportunity to support kids in their communities,' said Lisa Brandenburg, president of Seattle Children's. 'We are delighted that patients and families at both Seattle Children's and Christopher's Haven will benefit from these generous donations.'"
Donors can continue to support Seattle Children's and Christopher's Haven through their respective fundraising websites or by texting TEAMPRATT (for Seattle Children's) to 501501. Donations will be accepted through the end of the week.
To read the full blog about the visit, click here.