Natalia Vodianova and the Naked Heart Foundation hosted the Backstage Gala at the English National Opera's London Coliseum Theatre this week.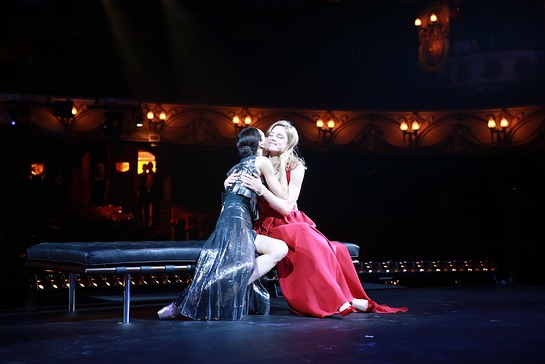 Guests who joined host Natalia Vodianova, together with Antoine Arnault, were delighted to discover on arrival that they would be dining on stage, where they were treated to a rare glimpse of the acclaimed theatre, and backstage otherwise reserved for performers.
Supermodel, and philanthropist Natalia Vodianova, who founded the Naked Heart Foundation 10 years ago, joined forces with one of today's greatest dancers Diana Vishneva to host this unforgettable evening which saw some of the world's greatest Ballet, and Opera talents perform a once in a lifetime show for just 200 privileged guests.
Distinguished faces from the art world; Harry Blain, Gary Hume, Georgie Hopton and Sotheby's Lord Dalmany were accompanied by young British talent; Pixie Lott, James Norton, Dynamo, and Lily Donaldson in their enjoyment of extraordinary, and intimate performances from world renowned violinist Maxim Vengerov, and Marcelino Sambe, as well as the world premiere of Zeitgeist by The Royal Ballet's principal dancers Natalia Osipova and Edward Watson choreographed by Alastair Marriott of the Royal Ballet.
Guests also had the opportunity to take part in a very special charity auction with all proceeds going to the Naked Heart Foundation, and Diana Vishneva's Foundation, which supports emerging dance professionals. The 11 money-can't-buy lots included; Original Diana Vishneva black and white prints by Patrick Demarchelier, a personalised Louis Vuitton case accompanied containing Diana's own ballet slippers, an original Annie Leibovitz print of Natalia Vodianova, a Couture experience, and made to measure dress by Valentino, and Afternoon Tea, and a ballet class with Diana Vishneva. The pinnacle of the auction and the evening was the opportunity to take to the stage with Diana Vishneva with guests instead nominating Natalia, and donating generously to see her on stage with her co-host.
The Naked Heart Foundation is fortunate to have been supported by some of the world's most acclaimed artists, musicians and fashion designers, who have lent their time and talent to over the past 10 years to the invaluable work they do with children with special needs. Naked Heart Foundation events have become renowned for their unique and unexpected fundraising style uniting luxury, with giving. The efforts and support of all who attended the Backstage Gala raised £435,000 towards the Naked Heart Foundation's and Diana Vishneva Foundation's important missions.