Live Nation and BBC, in partnership with The Royal British Legion present VE Day 70: A Party to Remember, a star-studded concert featuring a spectacular line-up including some of the biggest recording artists, performers, stars and celebrities in live entertainment.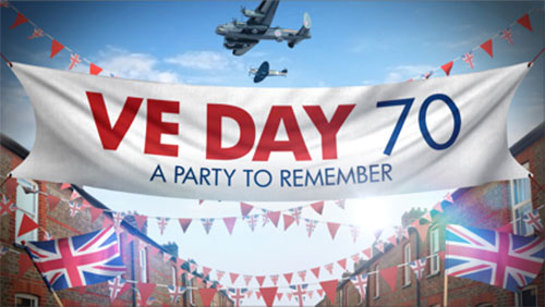 The concert, taking place at London's Horse Guards Parade on Saturday 9 May, will be a focal point of the national celebrations for the 70th anniversary of VE Day. This one-off event will be broadcast that night on BBC One TV and on Radio 2.
Hosted by Chris Evans, the concert will include performances influenced by the era from actor Adrian Lester, comedian and presenter Alexander Armstrong, Britain's favourite tenor Alfie Boe, actor Bernard Cribbins, boyband Blue, Britain's Got Talent winners dance troupe Diversity, musical theatre's leading lady Elaine Paige, hotly tipped jazz vocalist Gregory Porter, Dads Army's Ian Lavender, R&B singer Jamelia, stage, screen and TV star Jane Horrocks, UK's biggest mezzo soprano Katherine Jenkins, pop starlet Pixie Lott, one of the best voices to come out of the X Factor singer Rebecca Ferguson, legendary rock band Status Quo and four couples from top entertainment show Strictly Come Dancing.
It is part of three days of commemorations from 8-10 May to mark the 70th anniversary of VE Day. Plans include events ranging from a parade of veterans and Service personnel supported by bands through Whitehall, to a service of thanksgiving at Westminster Abbey, a flypast of the famous Battle of Britain Memoiral Flight and the Red Arrows, street parties around the UK and this star-studded concert.
Graham Pullen, Event Organiser from Live Nation said: "This is such an important year for VE Day celebrations and we are thrilled to be part of it by putting on this incredible concert. 'A Party To Remember' will be an evening which honours the music and entertainment that thrived during the 1940s. The staging has been inspired by the style of the era and the line-up promises to transport the audience back to such an iconic time for entertainment. The concert will be today's great performers celebrating the wartime era's great performers. A unique chance to see your favourite acts like never before."
Community celebrations across the UK will reflect the national events taking place in London where Second World War veterans are invited to attend as the nation's VIPs. VE Day itself, Friday 8 May, will be a day of Remembrance, and a Service of Remembrance will be held at The Cenotaph, including a national two minute silence at 3pm. In the evening a chain of beacons will be lit across the UK.
Saturday 9 May will be a day of celebration culminating in the concert. To join in the celebratory spirit sporting associations will be asked to mark the occasion during fixtures with clapping or song, and cathedrals across the UK, will be invited to ring their bells in celebration from 11am.
On Sunday 10 May, there will a Service of Thanksgiving at Westminster Abbey attended by HM The Queen, followed by a parade from the Abbey to Horse Guards Parade and into St James's Park, where The Royal British Legion will host a lunch reception for the veterans. Local communities are hosting their own celebrations, and it is expected that community halls, public spaces and homes will be decked with bunting and playing music to recreate the celebrations of 70 years ago.
Bob Gamble, Assistant Director of Engagement for The Royal British Legion said: "Communities across the UK are being encouraged to organise or take part in celebrations which recognise and salute an extraordinary generation who played such an important part in our history.
"The concert will be the pinnacle of the celebratory element of the commemorations, and we hope the Great British public will tune in to enjoy the fantastic line up of artists and mark this significant anniversary."
Broadcast on BBC One TV, the two-hour spectacular forms part of the BBC's plans to mark the 70th anniversary of VE Day and will be a magnificent moment the nation comes together to celebrate VE Day 2015.
To book tickets (cost £36.75) for VE Day 70: A Party To Remember log on to Live Nation and Ticketmaster.