Ahead of her forthcoming London to Brighton challenge Pippa Middleton and celebrated London fashion designer Tabitha Webb have collaborated to create an exclusive dress and scarf to help raise money for the British Heart Foundation.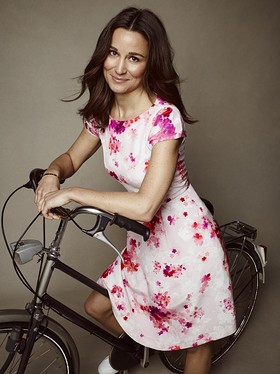 BHF Ambassador Pippa will be taking part in the charity's 40th annual London to Brighton Bike Ride on the 21 June and aims to raise funds to help continue BHF's life saving research.
To help boost fundraising, Pippa has teamed up with Tabitha Webb to create a limited edition dress and scarf. All profits from the sale of the dress and scarf will help continue the fight against cardiovascular diseases.
Tabitha, known for using striking prints, took inspiration from summery blossom to create the bespoke floral print with red, pink and purple flowers. The elegant silk tea dress (£295), cut just below the knee with flattering cap sleeves, is perfect for the summer season. The lightweight scarf (£95), using the same colourful print, is made from a modal and cashmere blend and is an ideal accessory for any outfit.
Tabitha Webb said: "I'm really honoured to be a part of such an amazing project. It has been an absolute pleasure to work with Pippa throughout the designing process and we are delighted with the outcome. The dress is perfect for the summer – either worn with a denim jacket and pumps for a casual look or dressed up with heels for a special occasion."
Pippa Middleton commented: "As an Ambassador for the British Heart Foundation, I wanted to do something different and exciting on behalf of this inspiring charity. I'm really looking forward to taking part in the London to Brighton Bike Ride this month and am thrilled I was able to collaborate with Tabitha on this project to help raise additional funds and awareness for the charity."
You can buy the dress online or from Tabitha Webb's Belgravia store: 45 Elizabeth Street, SW1W 9PP. All profits will go to the British Heart Foundation on behalf of Pippa Middleton's London to Brighton Bike Ride.
Source: British Heart Foundation