STOMP Out Bullying is delighted to announce a royal visit from HRH Crown Princess Mary of Denmark.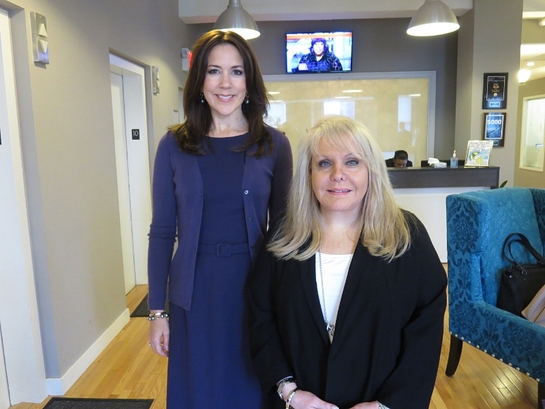 The Crown Princess of Denmark and her team from The Mary Foundation visited STOMP Out Bullying's New York headquarters to share ideas about bullying prevention. This marks the first meeting between The Crown Princess and her organization The Mary Foundation with STOMP Out Bullying. This is the initial step in raising a greater awareness of the effects of bullying on teens and children across the globe, as well as fostering new ideas on the best methods for prevention and education.
With the increasing use of technology, cyberbullying has become a serious form of violence among teens and young adults with lasting damaging affects. Children and young adults today not only encounter face-to-face bullying, but are also subject to it in the privacy of their own homes though the Internet and mobile devices. Over half of adolescents and teens have been bullied online and do not inform a parent or guardian when it occurs. Unfortunately, about the same percentage of individuals have also engaged in cyberbullying.
Here in the United States 1 out of 4 children are bullied and 8% students stay home on any given day because they're afraid of being bullied.
When it comes to cyberbullying in the U.S.,
• depending on their ages, up to 43% of youth report being digitally harassed.
• 35% of kids have been threatened online. Nearly 1 in 5 have had it happen more than once.
• 21% of kids have received mean or threatening e-mail or other messages.
• 58% of kids admit someone has said mean or hurtful things to them online. More than 4 out of 10 say it has happened more than once.
• 53% of kids admit having said something mean or hurtful to another person online. More than 1 in 3 have done it more than once.
• 58% have not told their parents or an adult about something mean or hurtful that happened to them online.
According to STOMP Out Bullying, while bullying and cyberbullying are still an issue, we've seen a slight decrease.
Ross Ellis, Founder and Chief Executive Officer, STOMP Out Bullying said: "We are thrilled that HRH Crown Princess Mary of Denmark requested a meeting with us to share best practices and ideas on bullying prevention. It is our hope that the two organizations can learn from each other, thereby making bullying prevention even stronger across the globe."
Both organizations agreed that prevention is key and were mutually pleased to learn that they share a common thread of core values and look forward to continue the dialogue in the future.