Downton Abbey star Laura Carmichael has joined the campaign calling on world leaders to back a fund to ensure children trapped in emergencies do not miss out on education.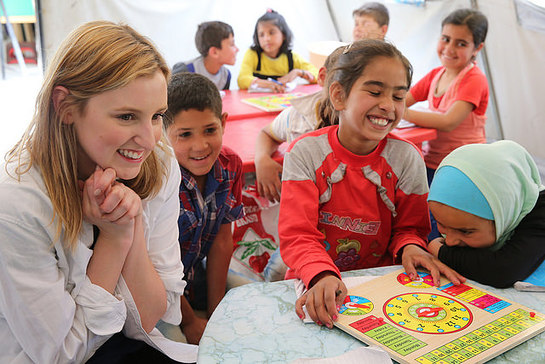 Laura, who plays Lady Edith in the hit British TV drama series, was deeply moved by a trip with A World at School to Lebanon, where thousands of Syrian children are out of school.
The 28-year old actress said: "I met children who have had everything taken from them because of the conflict raging in their country.
"They have left their homes and schools and are separated from friends and families. I spoke to mothers who were scared for their children's future, desperate for them to have an education to give them freedom to rebuild their lives."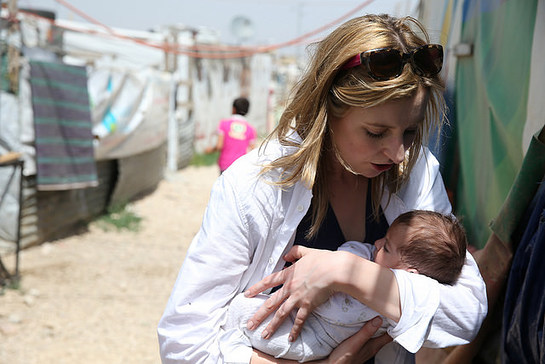 The four-year conflict in Syria has resulted in the worst refugee crisis in 20 years. There are 1.2 million Syrian refugees in Lebanon, a third of them children.
A World at School Ambassador Laura travelled to the Bekaa Valley, which is hosting thousands of Syrian refugees in tented settlements.
Almost all of the children there are out of school, many for up to four years, and the consequences are dire. Out-of-school children are becoming trapped in child labour, early marriage and radicalisation.
Laura said: "It was clear from everyone I spoke to that going to school would provide some hope and a chance to rebuild their lives.
"Two women, Kawsar and Ghazia, welcomed me into their home and introduced me to their beautiful children, all of them out of school.
"Kawsar told me her two sons who had once dreamed of being teachers and doctors were now labouring every day in order to support their family.
"You could hear the sadness in her voice that her children were bearing the brunt of the war.
"Ghazia, a mother of five, told me both of the eldest boys had to go out to work and provide for their family as their father was no longer alive.
"This is not uncommon in these areas, as many children out of school are becoming trapped in child labour, early marriage and extremism."
There is support for children affected by the Syrian crisis. But this is not recognised as a formal education and provides no qualifications for future work.
Read more here
Source: A World At School