Mel C recently visited India with TigerTime to learn about the plight of wild tigers and raise awareness of the issues they face.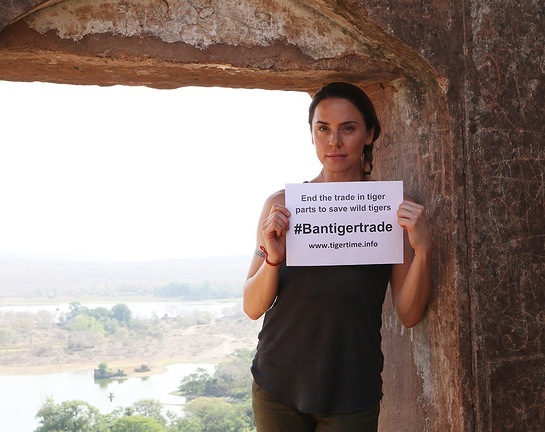 "I've been a supporter of the David Shepherd Wildlife Foundation's TigerTime Campaign since its launch in 2011 and I was thrilled when they asked me if I'd like to go to India to meet fellow TigerTime supporter, the Indian wildlife filmmaker Nalla Muthu to see a tiger in the wild and to help raise awareness of the issues these amazing big cats are facing," said Mel. "I jumped at the chance! But with as few as 3,000 tigers left in the wild I knew that there was no guarantee of a sighting.
""And it infuriates me that the trade in tiger parts from both wild and captive tigers continues. It was banned in 1987 but the demand continues. When once it was health that drove the killing – using tiger parts for ineffective medicines – it is now wealth that drives demand. People want tiger skins for status symbols and house decoration, they want tiger meat to serve at exotic banquets to impress their friends, tiger bone wine as a gift to influence others. It has to stop and TigerTime is helping to raise awareness of this issue with their campaign to ban the trade in tiger parts – everyone should sign up, everyone who has ever cared for tigers or forests or the health of this planet, not just for them but for their children and their children's children – should sign up at www.bantigertrade.com.
"In 2016 there is a hugely important CITES meeting at which the fate of the tiger may well be decided and the intersessional working group on tigers is being chaired by China – by a man known to be pro-trade. We have to ask China to do the right thing and need 500,000 signatures by October. Time may be running out for the tiger. We have to act."
To read Mel's full account of visiting India, click here.
Source: TigerTime