Today, county music legend Clint Black announced the four finalists for Chideo's Dream Recording Session Contest.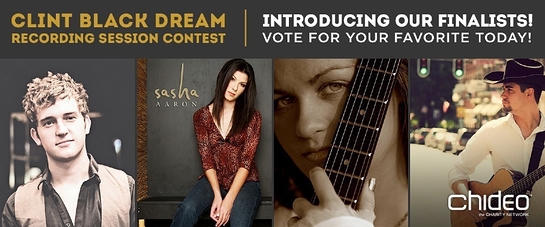 These finalists will now compete for America's vote in the hopes of winning a chance to record an original song with Clint, all while raising money for charity. By partnering with Chideo — the cause network dedicated to using celebrity-based experiences and exclusive content to raise awareness and funds for charity — proceeds raised through the competition will be donated to Rettsyndrome.org, whose mission is to accelerate research to cure Rett Syndrome and empower families with knowledge and connectivity.
"We are thrilled to announce these talented finalists and to work with Chideo to continue our commitment to raising money and awareness for Rett Syndrome," said Clint Black. "We are excited to invite every fan to join this process and choose which of these four will come to my studio to record. Most importantly, as we celebrate these talented musicians, we can all lend our voices to this important cause."
Launched in May just after the 50th Anniversary of the Academy of Country Music Awards (ACMs), The Clint Black Dream Recording Session Contest received an overwhelming number of submission videos from aspiring singer-songwriters across the nation, each donating $20 in support of Rettsyndrome.org.
The Clint Black Dream Recording Session Contest finalists include:
• Blake Esse of Culpeper, VA, Original Song: Feels Good Don't It
• Jefferson Clay of Austin, TX, Original song: San Francisco
• Julie McCloud of Waynesboro, PA, Original song: My Little Men
• Sasha Aaron of Nashville, TN, Original song: Red Roses And White Whiskey
Each finalist's original song will be featured exclusively on Chideo where fans will cast their votes to decide who will win the opportunity to record a song, which will be produced by Clint Black in his home studio in Nashville. Voting closes on September 3, 2015, when the winner will be announced and flown to Nashville for the recording session, video shoot, and audition with Black's management group, The Collective. Chideo and Black will host an exclusive premiere of the song and video with proceeds benefitting Rettsyndrome.org.
"Clint Black and Chideo have proven to be great partners," said Rajat Shah, Rettsyndrome.org Board Chair. "Because of opportunities like this, we are able to continue research for a cure and provide hope for thousands of families."
Rett syndrome is a unique postnatal neurological disorder that is recognized around 12-18 months and is almost always found in girls, but can be rarely seen in boys. Every two hours a girl is born with Rett syndrome, but very few people know anything about the disorder. Affecting 1 in 10,000 live female births each year, it is more common than Huntington's disease and Muscular Dystrophy. Clint Black currently serves as Honorary Chair for Rettsyndrome.org's "Research to Reality: Funding Progress" campaign, which helps to accelerate treatments and research to find a cure.